????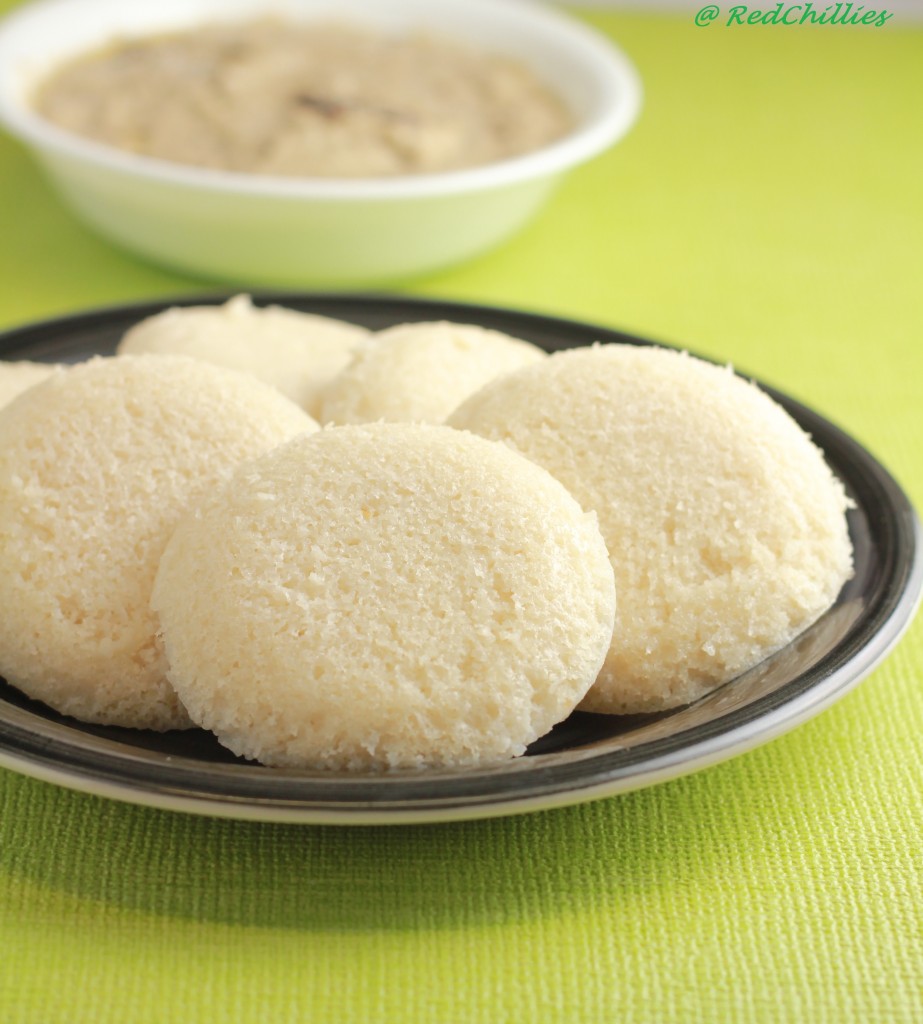 The idli or"idly" or "iddly" is a savory cake popular in South India. The cakes are usually two to three inches in diameter and are made by steaming a batter consisting of fermented black lentils (de-husked) and rice. Most often eaten at breakfast or as a snack, idlis are usually served in pairs with chutney, sambar, or other accompaniments. In addition, idlis are considered one of the top ten healthiest foods in the world. (Source:Wiki)?
?Idli along with Coconut Mustard chutney makes a flavorful combination and can be served as breakfast/brunch. I learnt making this mustard chutney from my MIL. In this chutney, roasted mustard seeds are added to the coconut chutney while grinding. Mustard not only adds pungent taste to the usual coconut chutney; but also enhances the flavor and goes well with the bland idli. Ever since I learnt to make this, I have been hooked onto to this and make it even to go along with dosas.?
Note: You can skip the mustard and make this as a regular coconut chutney. Even that tastes very good with the Idlis.
Ingredients for chutney
3/4 cups of shredded coconut

Tamarind extract of lemon sized ball

Jeera, mustard, redchillies, oil
Method:
Heat a small heavy bottom pan, add little oil and put 2 tsps of mustard

?

The mustard will splutter, but continue to mix it a bit with a spoon and then add the green chillies.

?

Once the green chillies get a bit of white coloring, switch of the gas and let it cool.

?

Meanwhile extract the juice from lemon sized tamarind.

?

Grind the coconut, salt, tamarind juice along with the cooled mustard to chutney consistency.

?Season with mustard, jeera, hing, red chillies. (Make sure the hing is authentic has a strong aroma)
?
Ingredients for Idli
1 cup urad daal (split and de-husked)

1 ? cup idli rava

Tablespoon?of cooked rice/ handful of soaked poha (beaten rice)

1 tsp methi
?
Preparation:
Notes for soft Idlis: In my experience, the key to making soft idli is first by using handful of rice/poha while making the urad daal batter and second is making sure that the batter(before fermentation) does not have too much water.
Soak the urad daal along with methi overnight in enough water.

?

Next day after the urad daal and methi have soaked up, drain the water completely.

?

Proceed to grind the urad daal, methi with cooked rice/poha and required amount of water and make a paste.

?

Do not add too much water; the water should be sufficient just so that the mixer/grinder motor runs smoothly.

When I notice some small fine bubbles (maybe about 4-5 of them) on the top I stop the grinding. (This is optional and may not be the case all the time).

In the meanwhile, when the urad daal is grinding, wash the idli rava with water about 2-3 times and drain it completely. Soak the idli rava for about 10 minutes and then drain the water. Make sure no water remains after draining the water.

Mix this urad daal paste thoroughly with washed idli rava. This should be as thick as possible. Let it stay to ferment for at least 8 hours (24 hours in winter).
Method:
Take the batter out and after the batter is fermented, add salt and water and mix the idli batter well. The batter should not be very thick. (it needs to be of puring consistency)

?Grease the idli stand and pour batter in each container.

Steam this in a pressure cooker without whistle/weight for 15 minutes.

Take the idlis out and serve along with chutney.
??