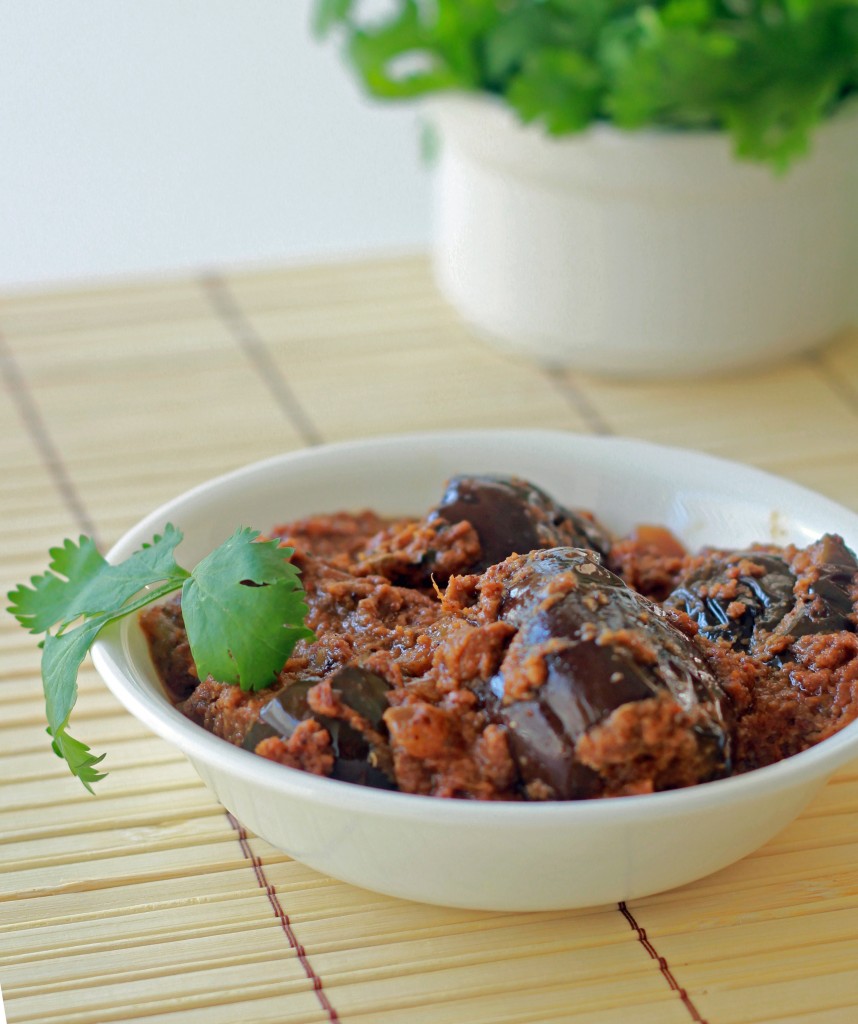 Every cuisine in India has its own version of making this Stuffed Eggplant delicacy. In fact even with in the same cuisine there are so many variations that it is hard to categorize this as belonging to a specific region. It majorly depends on the ingredients that go into the masala for stuffing.?
?Making this is not an easy process either; it is time consuming, involves lots of steps and requires a person to have good amount of patience to put this together. Ample experience is also required to judge when to turn the eggplant around, adjust the heat variations for cooking, sprinkle water etc.? Nevertheless the effort and patience pays off when the dish hits the table and everybody sits admiring at the 'beauty' and keep gorging on it.??
?Please note think that I am not trying to intimidate anybody about this.? This is based on my own personal experience and I discovered it the hard way. I learnt this recipe from my MIL who is an expert in making this. In fact this is one of her trademark recipes. I got carried away the first time she made this and could not wait to try it out myself. I watched her do with great intent, jotted down the recipe and what I thought were the key steps. But when I actually prepared it, there was only one word to describe the dish. DISASTER. The masala was burnt and the eggplants were not cooked etc.??
This was years ago and I have come a long way since. I have now learnt to make a decent stuffed eggplant though not in the same league as my MIL or other experts.??
?Ingredients
10 -15 small brinjals/eggplant
1 medium onion
? cup shredded coconut
Juice of lemon sized tamarind
Little jaggery for taste
Coriander leaves
Salt, oil
Ingredients to dry roast
1 Tbsp coriander seeds
1 tsp urad daal
1 tsp chana daal
? tsp methi seeds
? tsp sesame seeds
3-4 red chillies
?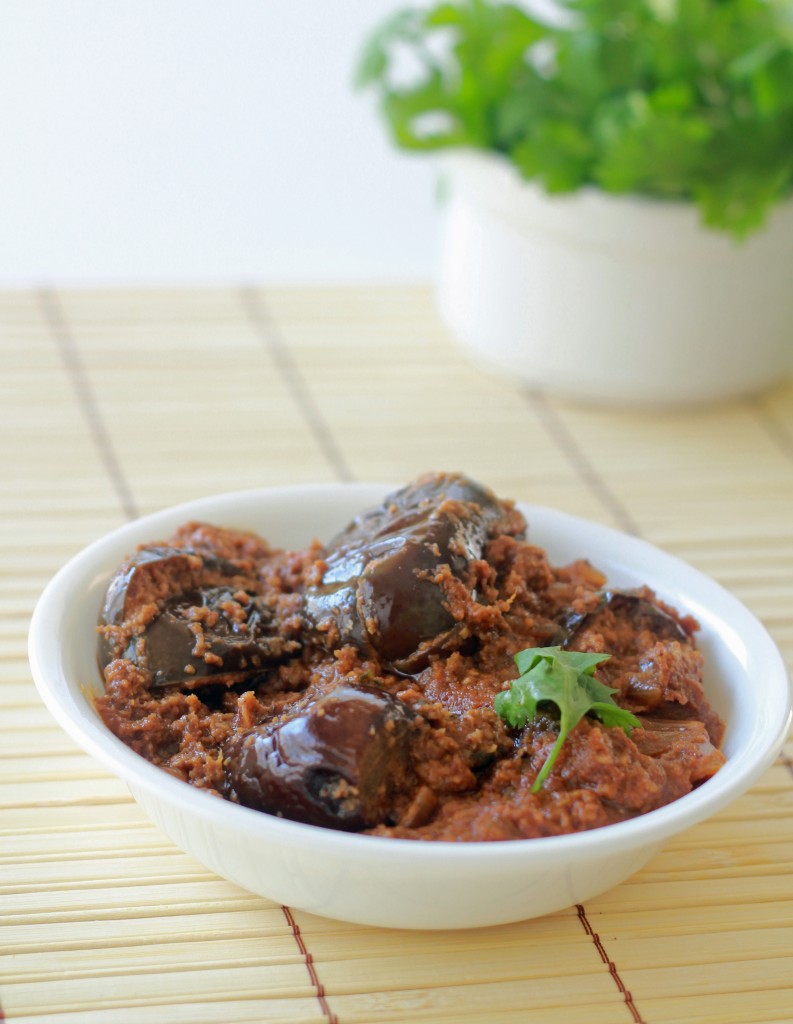 ?
?Preparation:?
Wash all the brinjals thoroughly and keep aside.?

?Dice the onion into small pieces.?

Dry roast all the ingredients one by one and keep them aside to cool.?

Grind the coconut along with red chillies, salt, tamarind juice and water.?

Half way through add the roasted ingredients and grind it to a smooth paste. Add water as required. The paste should be a bit thick and not runny.?

?Take the eggplant one by one and make a cross cut from the top of the eggplant Make sure to retain it in one piece.?

?Take a spoonful of paste and put this slowly into the opening of the eggplant where a slit was made.? Make sure not to tear the slit more. Repeat this for all the remaining eggplants.
Method:
Heat oil in a thick bottom pan; add the diced onions and sauté until transparent.

Remove the onions and keep aside. Reduce the heat to medium, add some more oil and start placing the eggplants one by one in the pan.

Cover a lid and let them cook for a while. After a while check if the eggplants are browning on the bottom. If so then change the direction, so that the brown part is at the top. Add more oil if required and cover the lid.

Check to see if the other side is done as well. Then add the cooked onions and the remaining masala paste and continue to cook.

Once the masala is cooked, steam in little bit oil. Mix and garnish with coriander leaves.
This can be served as a wonderful accompaniment with Rice, Rotis, Naans etc.