??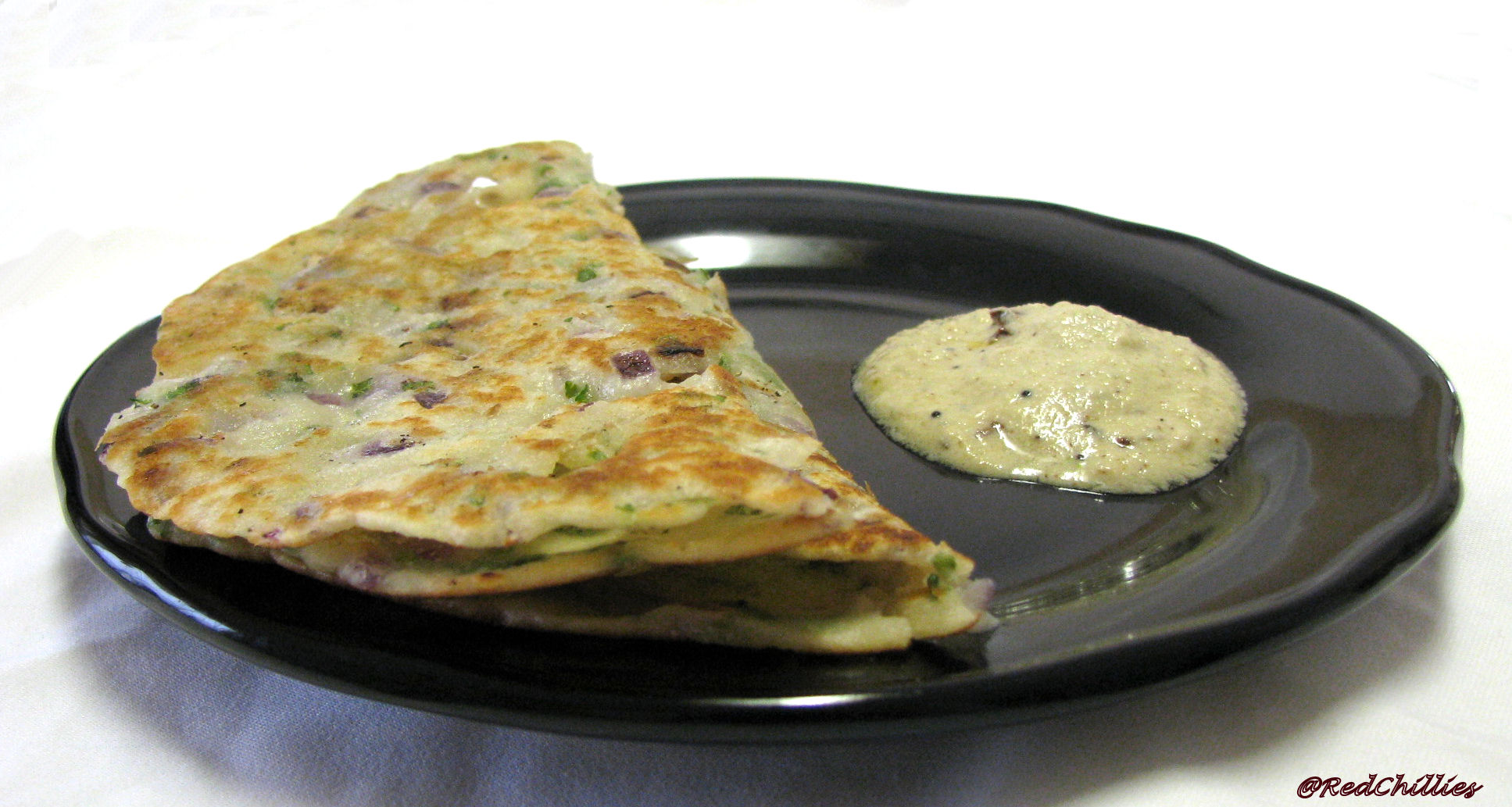 ??
Akki Rotti means rice flour pancake in Kannada and is a rice-based specialty breakfast item from the sate of Karnataka. This is also very similar to "Thalipeeth" made in Maharashtra. This is served along with chutney and a dollop of ghee or butter on the side.
As with every other recipe there are so many different ways of doing this "Rotti", some add shredded carrots, papdi liva (avarekai), dill etc to the dough. I pretty much follow my mother's recipe here using the basic ingredients like onion, coriander, cumin seeds. She adds some oil/butter and cream to the dough as it makes the "Rotti" little softer and not dry like cardboard. This also allows the "Roti" to be kept for a longer time as otherwise it gets hard.
There are also different ways in which the Rotti is made. Some of my friends pat the prepared dough directly over the girdle/tava and some make this on a Kadai/bandle. The later method is called "Bandle Rotti" in Kannada. But I follow another method in which the Roti dough is patted on to a shape of circle on a plastic cover. I then transfer the prepared circled dough onto the hot tava. I feel this method gives more flexibility as it is easy to control the shape and the thickness of the "Rotti". My mother uses the milk covers (available in India), washes them thoroughly, dries them and then magically cuts the rectangular plastic bag into a circular one. No matter how many times I have tried I can never get a circular shape. So as a last resort, whenever we go to India, I get bagful of these circular bags and store it there. If this is not available then aluminum foil can be used instead.
The coconut chutney is my MIL's recipe. As the base coconut chutney itself has no special taste, the flavor is imparted from the tadka, so it has to be strong; a good quality of asafetida is recommended for this. The flavor for the chutney comes from hing and curry leaves.
?
?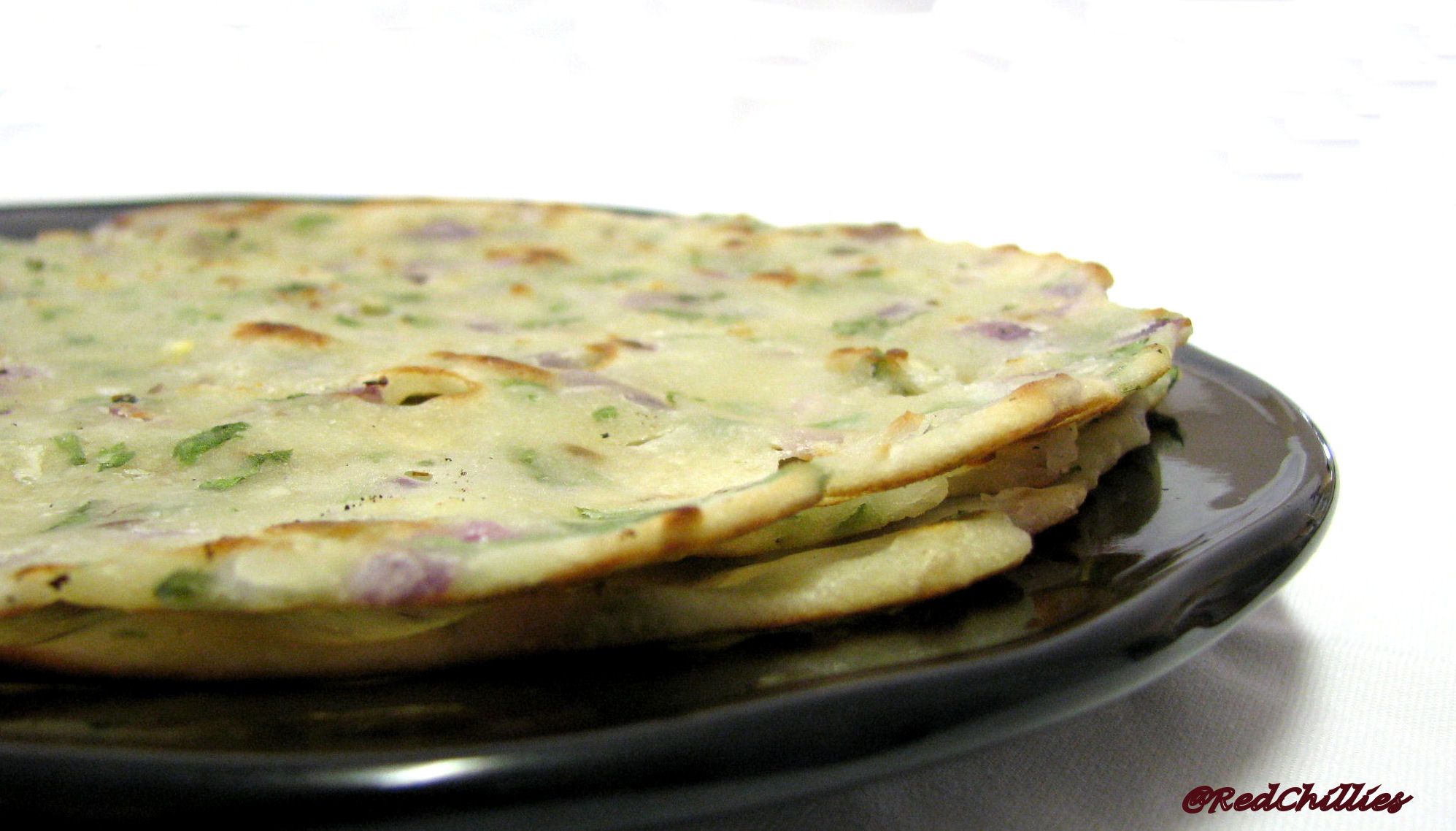 This is my contribution to FIC-White, an event created?by SunshineMom at TongueTicklers. This has been hosted this month by Lubna at Yummy Food.
?Ingredients:
? cup very fine

?

chopped onions (more the better)

3-4 green chillies cut finely

Handful of chopped coriander leaves

1 Tbsp warm butter/oil (while making the dough)

Little jaggery (optional)
?
Preparation: (making the dough)
?
Take a big flat plate and spread in the rice flour. Take the remaining ingredients (except oil and cream) and spread it over this. Mix well.

Warm the oil and pour it over this. Add the cream (if using) and mix well.

Make stiff dough out of this by adding warm water in parts. Do not add all the water at once.

?

This should have a consistently of chapathi dough. The more the dough is kneaded the better. Cover this dough and keep aside for about 30 minutes.
?
Method:
?
Heat a tava/gridle on medium flame. Meanwhile take a handful of the prepared dough and pat it on a plastic cover shaped into a circle (see above). Spread this around until medium thickness is attained.

Place this on the tava, pat round and remove the plastic cover. Spread oil around it and cover with a lid. There is no need to crank up the heat. This is usually cooked on medium to medium high flame.

Turn on the other side, add some oil and allow to cook on other side.

Proceed with the same method for the remaining dough.
?
?Ingredients for coconut chutney:
?
Tadka
2-3 red chillies broken into an inch
?
Method:
Grind the coconut along with green chillies, tamarind and salt adding sufficient water. Make sure there are no lumps and that it has become a fine paste.

For tadka heat oil, add mustard seeds, curry leaves, red chillies and asafetida. Pour this over the chutney and close this with lid immediately.