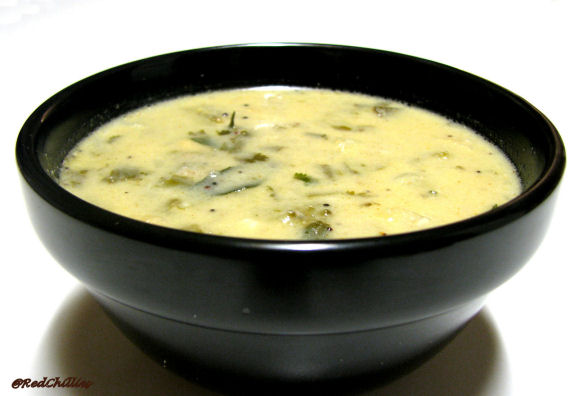 ?
I grew up eating predominantly Konkani/Maharashtrian and also Karnataka style food. Even though I had Guajarati food occasionally maybe at friend's place or restaurants I always enjoyed it and craved for more. The sweet mild taste, flavorful spices all blend together to form a unique taste. Quite frankly we are a family that relishes real hot food; at any point of time we have a huge storage of red and green chillies at home to use in our everyday cooking. But then I equally love the mild and pleasant taste of Gujarathi food.?
?
Unfortunately in the place that we live currently there are no Guajarati restaurants around and so it had been a while since I had some authentic Guajarati style food.?
?
Quite recently we had been to a friend's place for dinner and we were treated to fabulous Gujarathi style cuisine including Kadhi, Undhiya and Dhoklas. Because of time constraints etc I did not get a chance to get the recipes from her.
After a week or so I craved for some Kadhi and googled for the same. I adapted this recipe from Tarla Dalal's site and made some minor changes.
?Dear P, this bowlful of Kadhi is especially for you! Remember the bowl? J
?
Ingredients?
2 Tbsp gram flour/besan

2 cups fresh yogurt

1 tsp chilli-ginger paste

Pinch of turmeric

Salt to taste

Sugar as per taste

Chopped coriander for garnishing??
For tempering/tadka?
?
a pinch asafetida

Curry leaves

1 tsp cumin seeds

1 tsp mustard seeds

1 red chilli broken into pieces

2 tsp oil?
?
?
Method?
Mix the gram flour, yogurt and 3 cups of water and mix well.

Add the chilli-ginger paste, sugar, and turmeric, salt and bring it to boil. Stir in between as the besan tends to stick to the bottom.

Prepare the tempering by heating the oil and frying the cumin and mustard seeds until they turn brown. Add the asafetida, curry leaves and red chilli.

Add this to the kadhi and boil for a few minutes.

?

Finally garnish with chopped coriander leaves.
?
Tips to prevent curdling:?
?
?
AnuDivya: Thanks for reminding me about the curdling part in the Kadhi.? The yogurt tends to curdle when it is boiled. So a good way to avoid the curdling is not to boil it for a long time, but to simmer it on low flame for lesser time. Also another tip that I have heard is to use full fat yogurt rather than low fat or no-fat yogurt.
?Tip from Sonu: When you prepare yogurt-besan mixture, add a salt before you put on gas. If you forget to add salt you might not get perfect result. I mean you should add salt while making mixture that prevents separation of curd from Kadhi and you will get nice and silky Kadhi. This is my Mom's old time tip and will definitely work out
?Tip from Soma: Use full fat dahi(yogurt), and the besan(gram flour) in it prevents it from curdling.??
?
?
Thanks All!
?
?