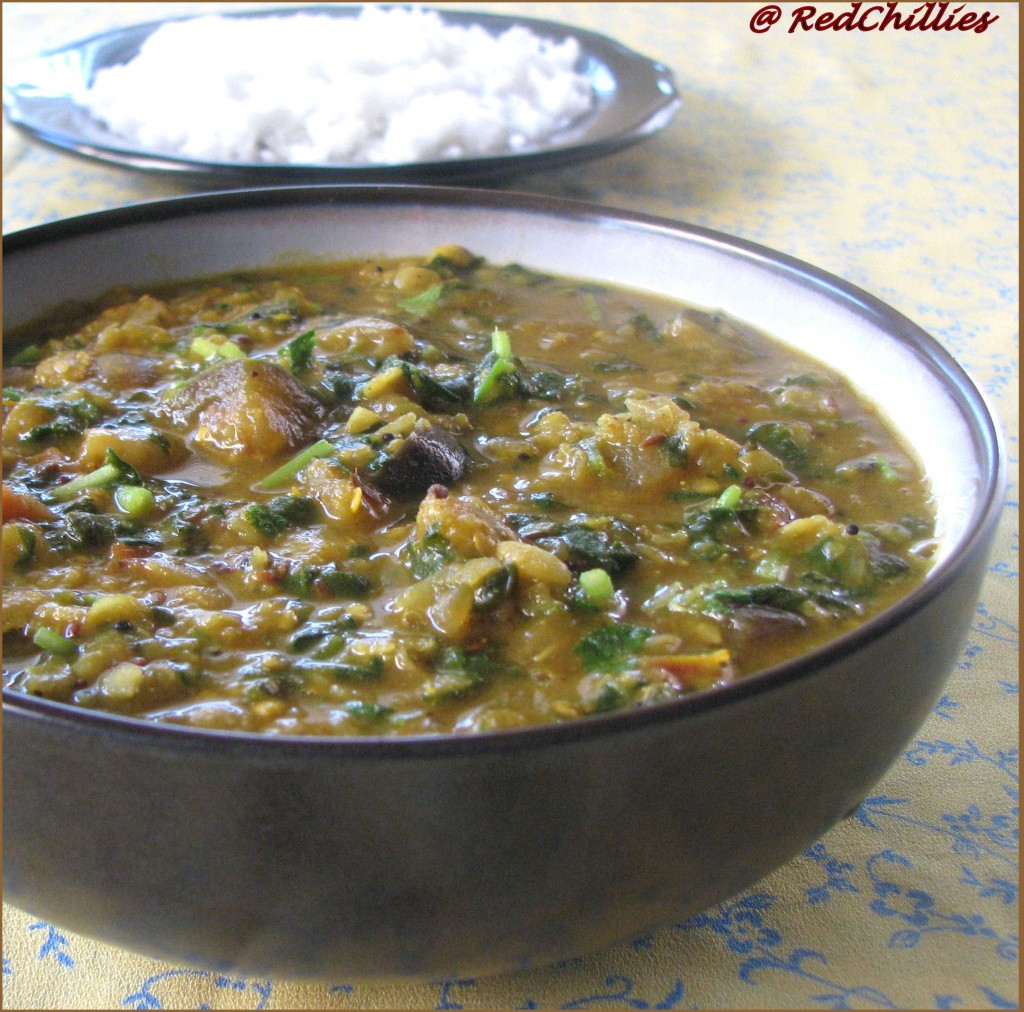 ?
Yet another crazy week for me at work and cannot wait for the weekend to come by. ?For dinner I made this easy and nutritious daal yesterday inspired by this previously posted recipe here. It has a combination of lentils, greens, vegetables along with the goodness of ginger, garlic. I made this in a thicker consistency so that it would go well with both Rice and Rotis/Chapathis. Best of all this is a one pot dish and cleaning is a breeze.
?
This daal has similar ingredients to that of a Sambhar, but I used Chana Masala instead of the Sambhar powder. In this recipe, eggplant (brinjal) can be substituted with any other vegetable(s) of choice and spinach with any other greens.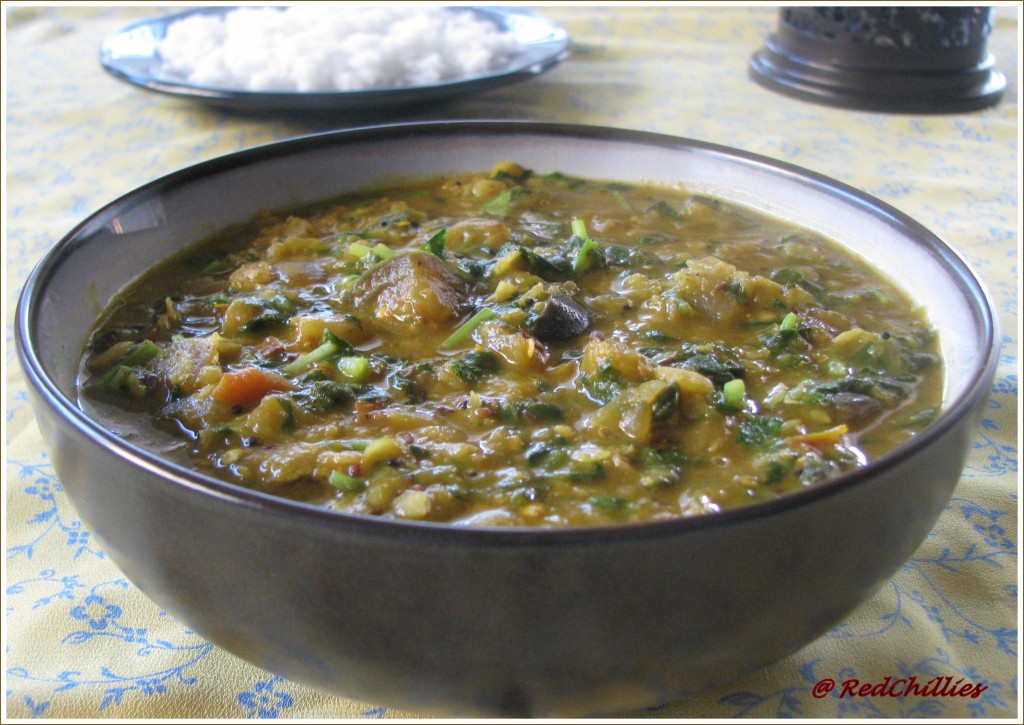 Ingredients:
? – 3/4 cup masoor daal/ toor daal

? cup chopped onions

1 medium tomato

Garlic 2 pods

1 Tbsp ginger

2-3 green chillies slit

3 cups packed spinach

2 cups chopped brinjal/eggplant

Mustard seeds

Chana Mssala/Garam masala/Rajma Masala

turmeric

Cumin seeds

salt

oil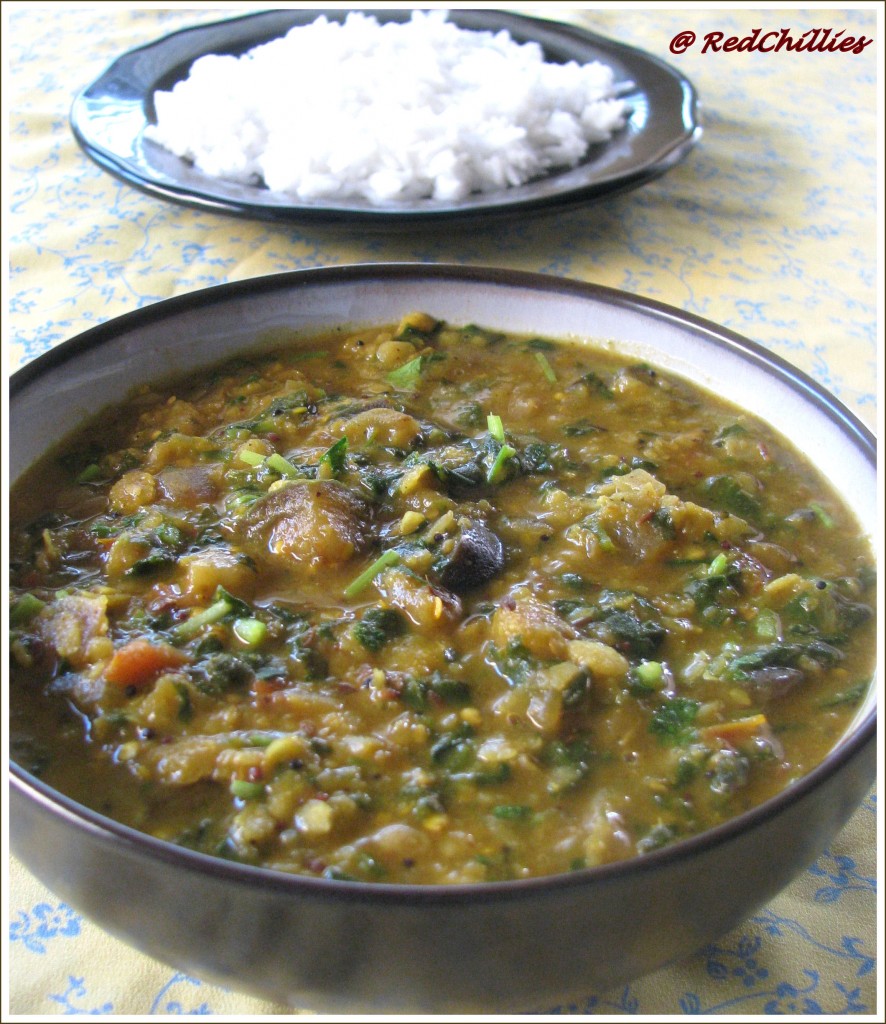 Preparation:
Grate the ginger and garlic and keep aside.

Pressure cook the Toor daal/Masoor daal along with cumin seeds, turmeric using sufficient water until soft and mushy.

Chop the tomatoes, spinach and keep aside.
Method:
Take a heavy bottom pan, add the oil. Add mustard seeds, cumin seeds, next add the ginger and garlic and sauté until the garlic turns light brown.

Now add the onions, green chillies,spinach and stir until they are soft and transparent. Note: There is no need to cook the spinach beforehand. It wilts down very fast.

Add the chopped brinjal/eggplant and mix until it is cooked. Add more oil if necessary.

Add the chopped tomatoes, salt and mixuntil the raw smell of tomato is gone.

Add chana masala powder/garam masala, salt and mix well. Add more oil at this time if dry.

Mash the cooked daal, so that there are no lumps and add to this.

Simmer for a while until the gravy blends with the daal. Check for seasonings.