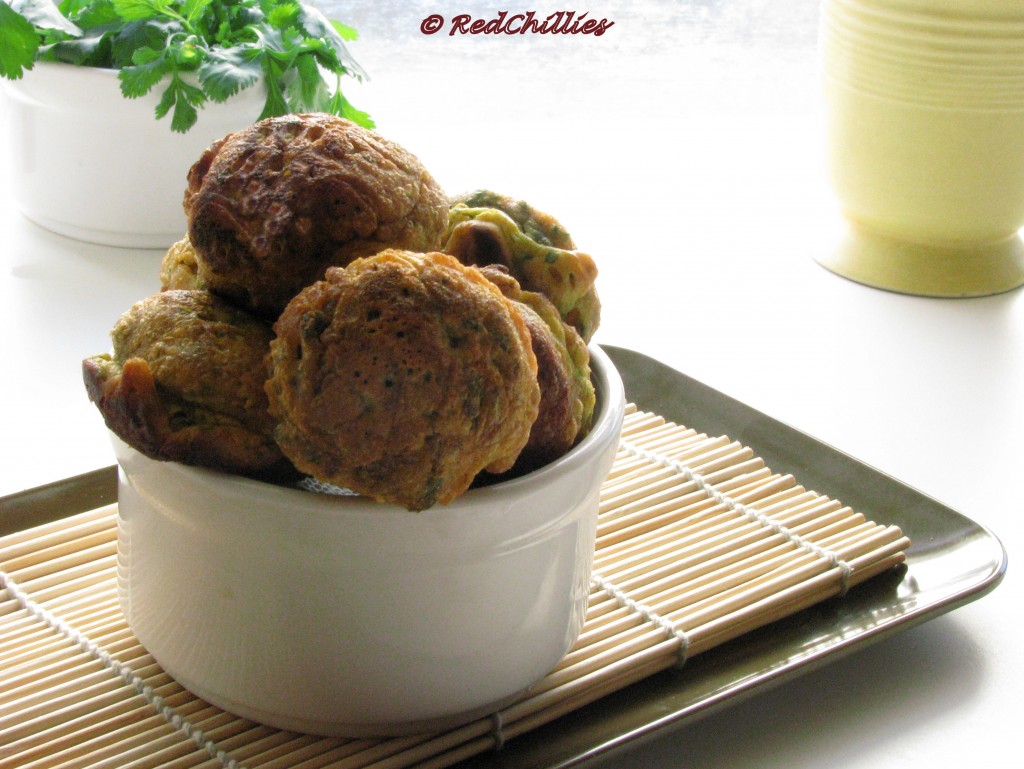 My dear friend Upsi makes the best Methi (Fenugreek leaves) Pakodas. Whenever she makes them at home, she is sweet enough to bring some for us as well. ?Pakodas made with Fenugreek are new to us and we had not tasted it before. Of course, we have had onions pakodas and they are our all time indulging favorites. ?
?
The Methi Pakodas that Upsi makes are crispy, spicy with strong flavors of fenugreek, fennel complementing the sweet taste of cooked onions. The bitter taste of fenugreek is no where to be found. All in all a deadly combination J.Suffice to say that we all including the little one waste no time in polishing off the container clean and clear. That is how good they are!
?
Last Thursday I came back early from work and had that craving to indulge on something crispy and yummy. It was too early for dinner, but about the right time for evening tea. With the impending long weekend in mind, I was all set to do some experimenting in the kitchen. The first thing that came to my mind were these pakodas and also I had been meaning to try them for a long time. However with not–so-happy thought of bulging waistline I decided to make it the low-fat Appe Style way.
?
For all those new to this method, I use the Aebleskiver Pan to make low-fat version of pakodas, vadas, bhajjis. The Appe (Konkani cooking word) is also referred to as "Ponganalu/Paniyaram/Uniyappam". I have found very favorable results by using this pan and this forms a healthier alternative to the deep fired variety. To see how the Aebleskiver pan/skillet looks like check here.?
?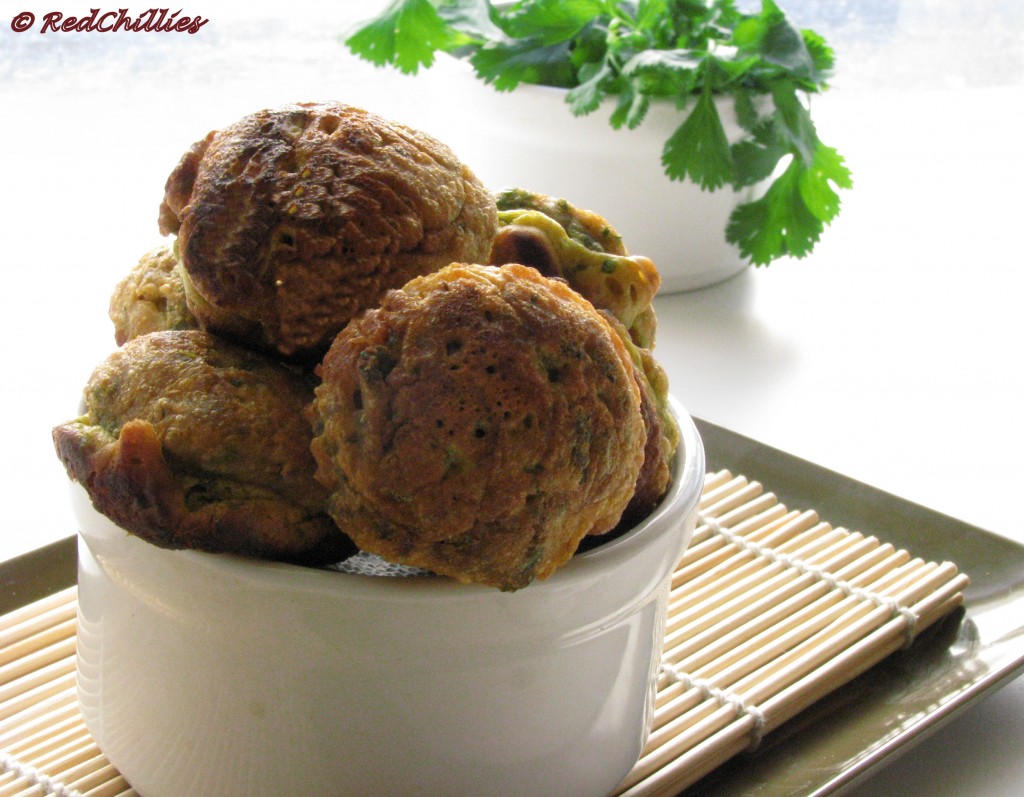 You can also check other recipes using this skillet: Dahi Vada (Appe ), Malai Kofta Curry, ?Masala Vada.
?
My son also liked this and ate it with some ketchup. This week I also packed some for him in his lunch box as one of the items. It has the same taste and this is crispy on the outside, with spongy idli like texture on the inside and definitely worth a try.
?
This is my contribution to the event CFK: Healthy Lunch Boxes guest hosted by Neha. This is a monthly event started by Sharmi of Neivedyam.
1 ? cup Besan (Gram flour/Chickpea flour)

2 Tbsp rice flour

1 cup of chopped onion

?

1 cup of pressed fenugreek leaves chopped (I used ? cup of frozen Fenugreek leaves)

Turmeric

Red chili powder

Salt per taste

2 tsp fennel seeds

Sugar a pinch

? tsp Baking soda

Water to make the batter
?
?
Yields:
?
Approximately 30 appes.
?
?
?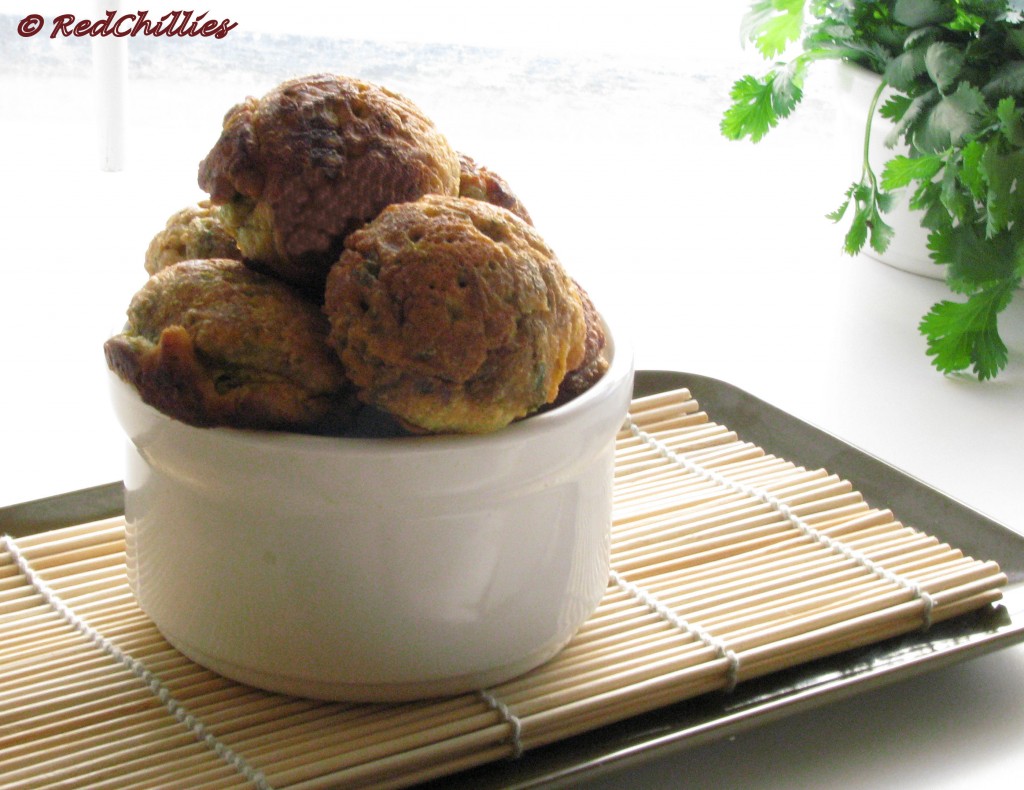 Method:
·???????? Note: If using the frozen fenugreek, thaw it first and microwave it until the water content is gone.
·???????? In a bowl mix together Besan, Rice flour, baking soda, salt, red chili powder, turmeric, fennel, sugar. Add water so that it has a consistency of pakodas/bhajji (Neither thick nor runny)
·???????? Add the diced onions, fenugreek and mix thoroughly and keep aside for 10 minutes. Check for taste; if necessary add salt, chillies etc.
·???????? Heat the ?Aebleskiver pan/ Appe skillet and add 1 tsp oil into each groove.
·???????? Make sure that the oil has become hot (not smoking hot). Drop a bit of batter to test and if you hear the sizzling sound, the oil is of the right temperature.
·???????? Add the prepared batter into each of the grove, so that 2/3 of the grove is covered and then cover it with a lid.
·???????? Reduce the heat a little bit at this time. After a minute or so, open the lid and with a kitchen knife, run it around the edge of the appe, to see if it is browning.
·???????? Make sure the appe does not turn dark brown or black in color. The one in the middle is the one that gets dark fast.
·???????? If some of the appe can be easily displaced from the grove turn it on the other side, add oil and cook until done. Let the remaining appe cook correctly and turn them when done.
·???????? When turned on the other side, add oil again and reduce the heat even further and there is no need to cover with lid. This side gets done pretty fast.
Eat them warm as is or with ketchup. Do not forget to drink with some tea J