?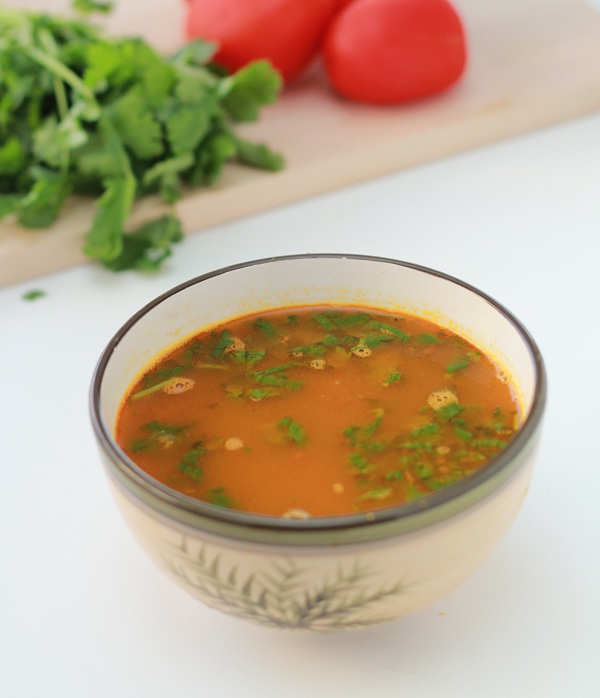 Even though I grew up in Bangalore, the home town of the famous restaurant MTR, I was never familiar with the MTR masalas, powders and spices then. The main reason being that my Mom is a wonderful cook and she made all the powders for sambhar, rasam, vaangi bhaat, pulliyogere etc from scratch at home.
Fast forward some?years when I got married and came to the United States, I found myself as a clueless cook shouldering the responsibility of cooking. I used to crave for comfort food like rasam, sambhar etc food that I grew up with and that is when I discovered these MTR powders. My pantry now is adorned with variety of these powders and one of our favorite is the MTR rasam powder and the taste of the rasam is delicious!
Ingredients
? cup toor daal
?2 medium ripe tomatoes
4-5 curry leaves
?4 tsp MTR rasam powder
Coriander leaves for garnishing
1 Tbsp Tamarind juice
?2-3 red chillies
?Jeera/ cumin seeds
1 tsp Mustard seeds
oil
salt
Preparation:
Pressure cook the toor daal with little jeera and turmeric.
?Meanwhile dice the tomato into small pieces.
Method:
Heat 2 tsp of oil in a vessel and add the mustards. After they splutter, add jeera and curry leaves and reduce the heat a bit.
Next cut the red chillies into small pieces add to this and fry for a little while.
Add the finely diced tomatoes, salt and let it cook for a while until the water from the tomato disappears.
Add about 4 spoons of Rasam powder and mix well. Stream in little bit of oil so that the powder mixes well and cooks with the rest of the ingredients.
Add the tamarind paste and cook again.
Next add the mashed toor daal and let it boil for about 5- 10 minutes.
Check taste and if necessary, add more rasam powder, salt, tamarind.
Finally garnish with coriander leaves.
This tastes good when it is a bit tangy, so go little extra on the tamarind or tomatoes. Serve with rice.