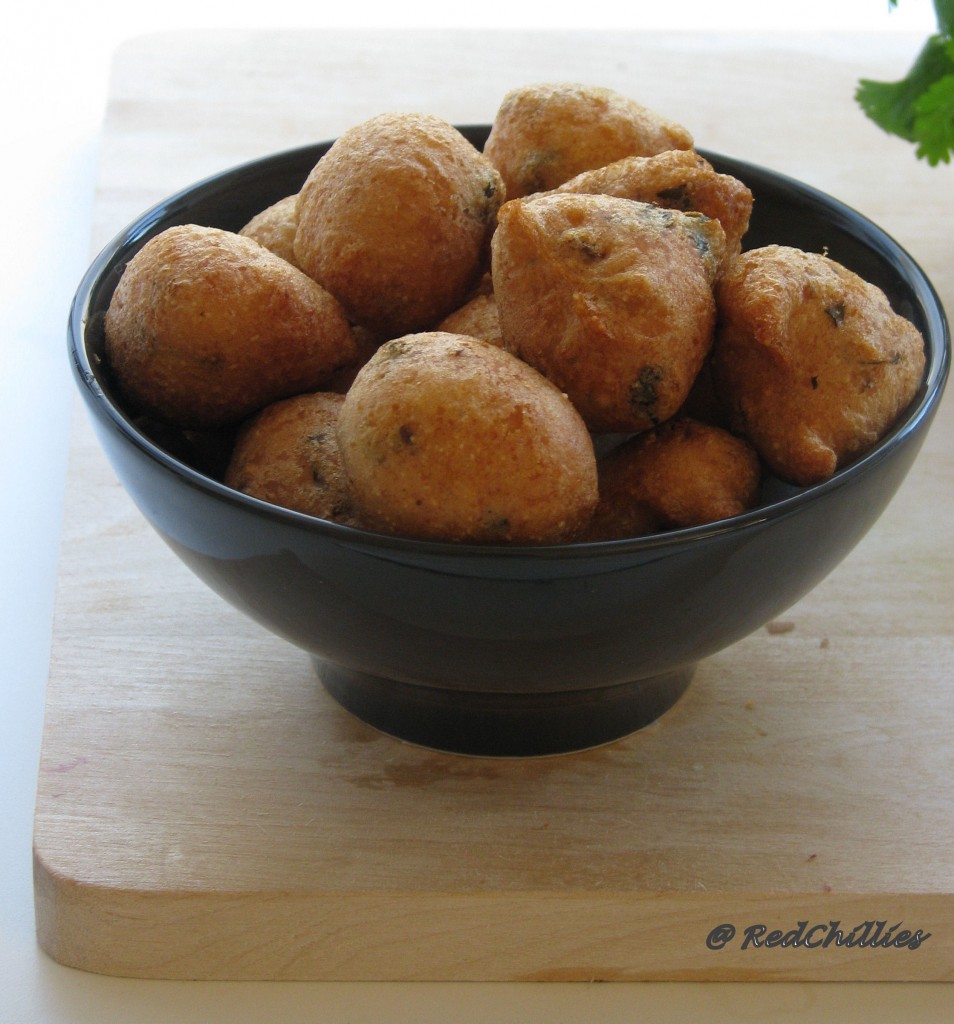 I am thrilled to kick start the New Year with one of my favorite recipes, Bonda Soup. It is a famous appetizer served in Sagar/Darshini restaurants in Bangalore. If you are unfamiliar with this recipe, then loosely put Bonda a round deep fried snack is dunked in hot a lentil soup. Bonda is made of soaked urad daal referred to as Uddina Bonda(Kannada) has a crispy outer shell and soft, fluffy on the inside. Putting it in a simple way, Bonda is nothing but Medu Vada except that it has a round shape with no doughnut hole in the middle. Now this is served in a piping hot lentil soup, which is usually a thick daal, similar to this Daali thoy here.
This is served in many Bangalore traditional restaurants as an appetizer. Growing up in Bangalore, this used to be my top choice for appetizer especially during cold wintery days. My dad also used to like this and we used to share this, before we started the main course meal. There were some restaurants that served the Bondas along with Tomato rasam/sambhar. But I preferred the soup which was more like a simple daal tadka along with the crunchy vada.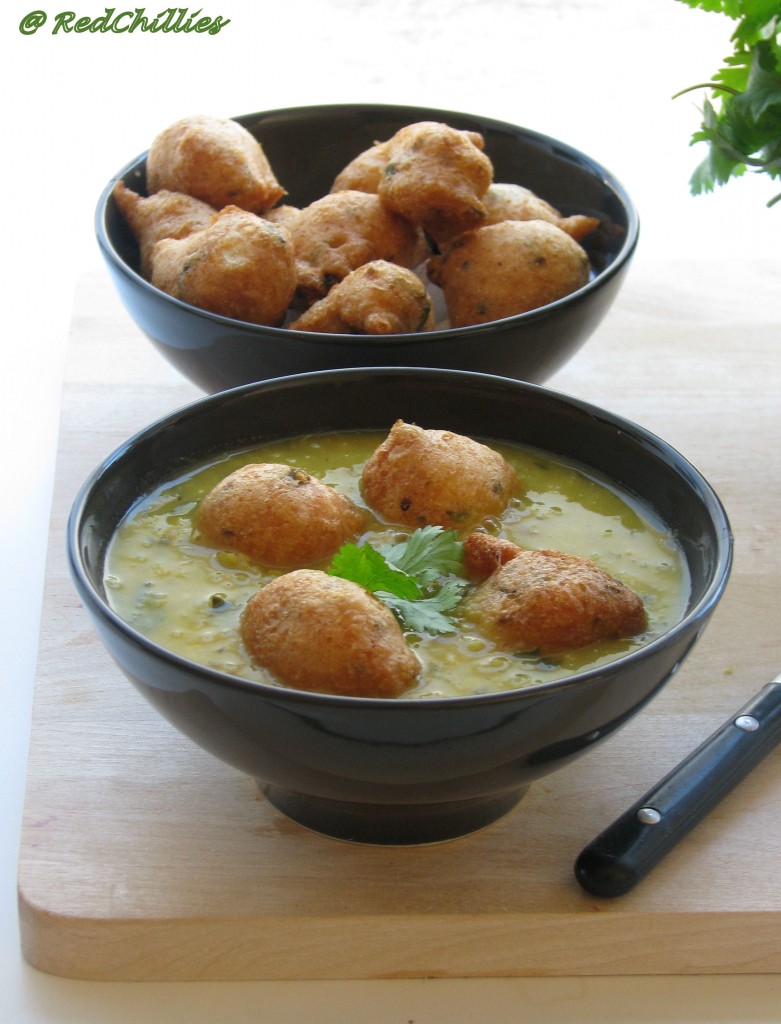 This is a good one to offer to guest as a starter/appetizer, especially during cold weather. The soup can be prepared in so many different ways, but I like it this way and also prefer to have bite sized bondas, rather than those big ones available in restaurants.
Bonda/ Vada preparation:
Ingredients for Daal/Soup
?3/4 cup Toor daal
2-3 ?Green chillies
?Ginger grated
?Mustard seeds
?Turmeric
?Curry leaves
?handful Coriander leaves (chopped)
?juice of a lemon
?Salt, oil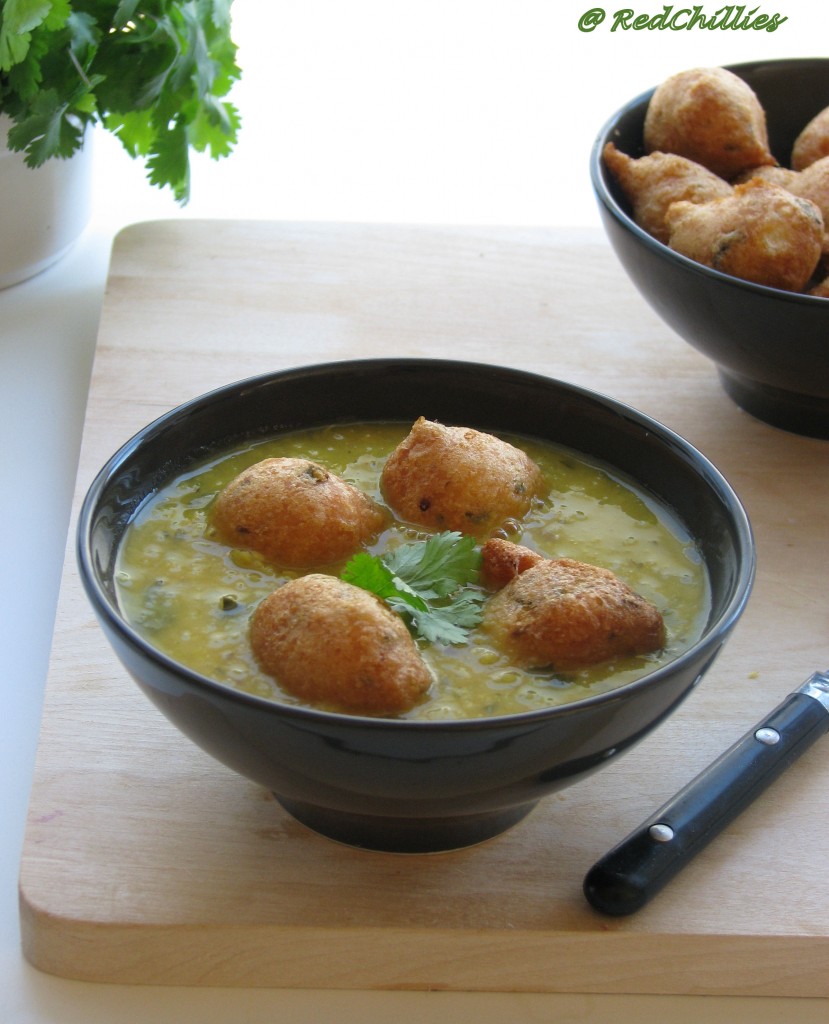 Procedure:
Pressure cook the daal along with turmeric, after it is cooked mash it and keep aside.
Take a heavy bottom pan, add oil then mustard seeds, curry leaves.
Then add the cooked daal, ginger, chopped chillies, Salt and Coriander leaves) boil it until it gets a soup like consistency. Add the juice of lemon and mix well.
To serve: Take the prepared hot soup in a bowl and add the bondas. Serve hot!