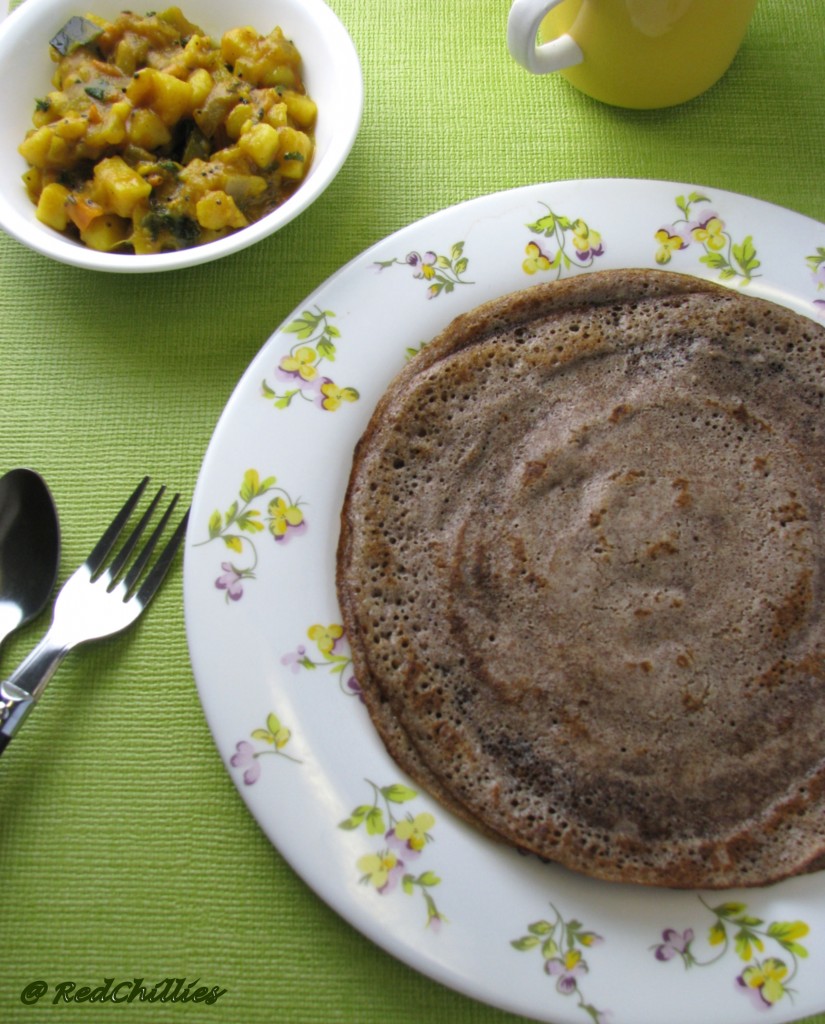 I was happy when Madhuram?announced the ingredient selection for JFI as Raagi. It had been a while since I cooked anything with this wonderful whole grain and this was an opportunity for me.
Raagi (Finger Millet?in English) a whole grain?rich in iron content. Finger Millet is a mildly sweet, nut-like flavor and contains a myriad of beneficial nutrients. It is nearly 15% protein, contains high amounts of fiber, B-complex vitamins including niacin, thiamin, and riboflavin, the essential amino acid methionine, lecithin, and some vitamin E. It is particularly high in the minerals iron, magnesium, phosphorous, and potassium. The seeds are also rich in phytochemicals, including Phytic acid, which is believed to lower cholesterol, and Phytate, which is associated with reduced cancer risk.?(Source)
Back home in India, my MIL makes wonderful things with Raagi like Raagi Rotti, this Raagi Dose and also the best Raagi Mudde.
Note: The texture of this dosa is pretty much like a regular urad dosa, mainly because of the addition of Urad flour and flattened rice. However the dosa has a nutty and fibrous flavor of the Raagi along with mild flavor of Urad. This is a very healthy, nutritious and a filling dosa. I think this is a good one to try especially if you are new to eating Raagi.
This is my contribution to JFI-Raagi an event hosted by Madhuram at EgglessCooking. This event is a brain child of Indira?@ Mahanandi.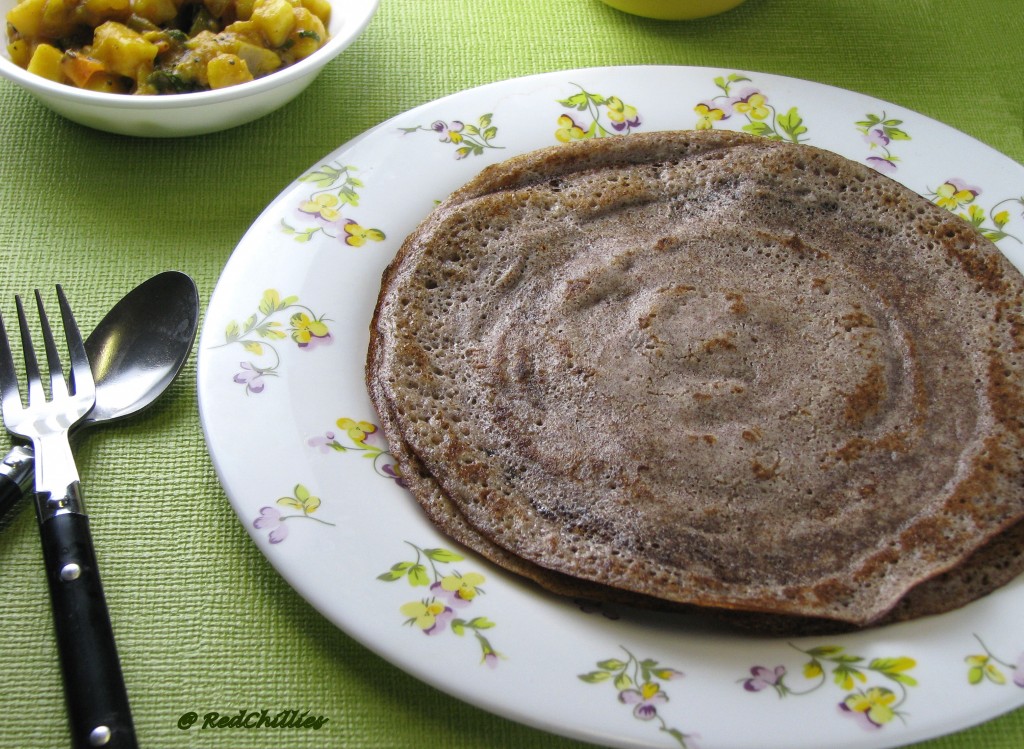 Ingredients:
1 cup Raagi flour
?1 cup rice flour
?1 cup urad flour
?Small handful of flattened rice/poha/aval (soaked for 20 minutes)
?Salt,oil
Method:
Dosa Batter:
?Mix the flours together, add water in intervals and stir well. Add water until it has blended and become a thick mixture. [Note: because of the urad flour it could stick and form blobs/lumps].
?Take this thick mixture, grind to a smooth batter along with soaked poha/aval, using some more water. (Grind just like you would for a regular Urad Dosa)
?Pour the batter in a vessel. Let the batter ferment for at least 6-7 hours in summer and about 24 hours in winter.
Making Dosas:
When ready to make the dosas, check for the consistency of the batter. It should not be too thick or thin. Add water if necessary. Add salt and mix well.
?Heat the iron griddle/flat pan or non-stick tava on high heat. Sprinkle some water on it to make sure it is hot.
?Pour a ladle full of batter in the centre, spread with the back of the ladle from the centre, spreading the batter to form a circle.
Pour a tsp. of ghee or oil over and around it and cover this with a plate.
After a minute or so, check to see if the back of the Dosa is cooked.?
Turn with a spatula when crisp and flip onto the other side. Let this side cook for about 20-30 seconds.
Proceed making dosas similar way with the remaining batter. ?Serve with chutney, subzi or with podi-oil.