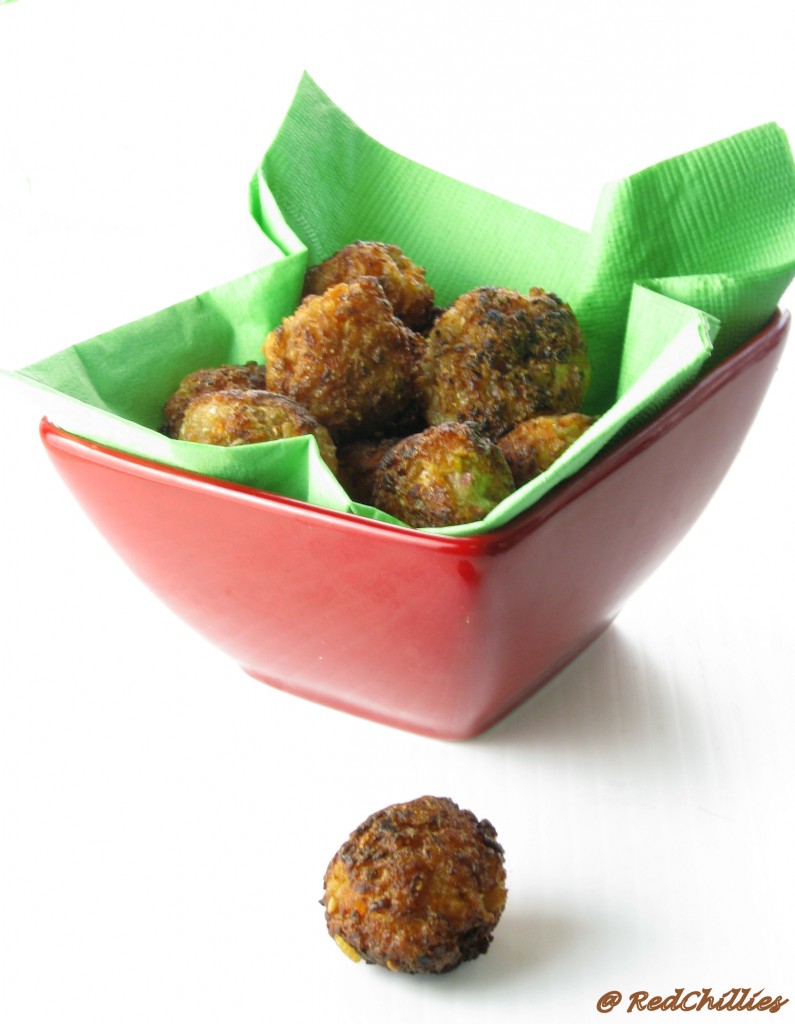 ?
The concept of making these vegetable balls is borrowed from the famous dish Vegetable Manchurian. The kiddo is fond of Gobi or the Vegetable Manchurian, however he is not fond of the sauce. So I have used the idea and made only the vegetable balls. I use my trusty Aebleskiver Pan for making these vegetables balls that way I do not have to deep fry these, making it healthier. Plus I do not use MSG/ajinomoto and hence it is safe for the kids to eat.
?For all those unfamiliar with this pan, the Aebleskiver Pan can be used for making low-fat version of pakodas, vadas, bhajjis. The Appe (Konkani cooking word) is also referred to as "Ponganalu/Paniyaram/Uniyappam". I have found very favorable results by using this pan and this forms a healthier alternative to the deep fired variety. To see how the Aebleskiver pan/skillet looks like check here.?
?You can also check other recipes using this skillet: Dahi Vada (Appe ), Malai Kofta Curry, ?Masala Vada, Instant Sooji Onion Appe, Low Fat Methi Pakodas (Appey Style).
?Please note that making these balls from start to finish is a little bit time consuming process; so plan ahead. However the taste of these veggie balls is delicious and kid appealing ??
I have started a new section on my blog called the "Kid's Recipe Corner" which has a listing of Kid's recipes from my blog. If you have any snack idea, lunch box idea that you would like to share, then please feel free to do so. I would love to hear from you.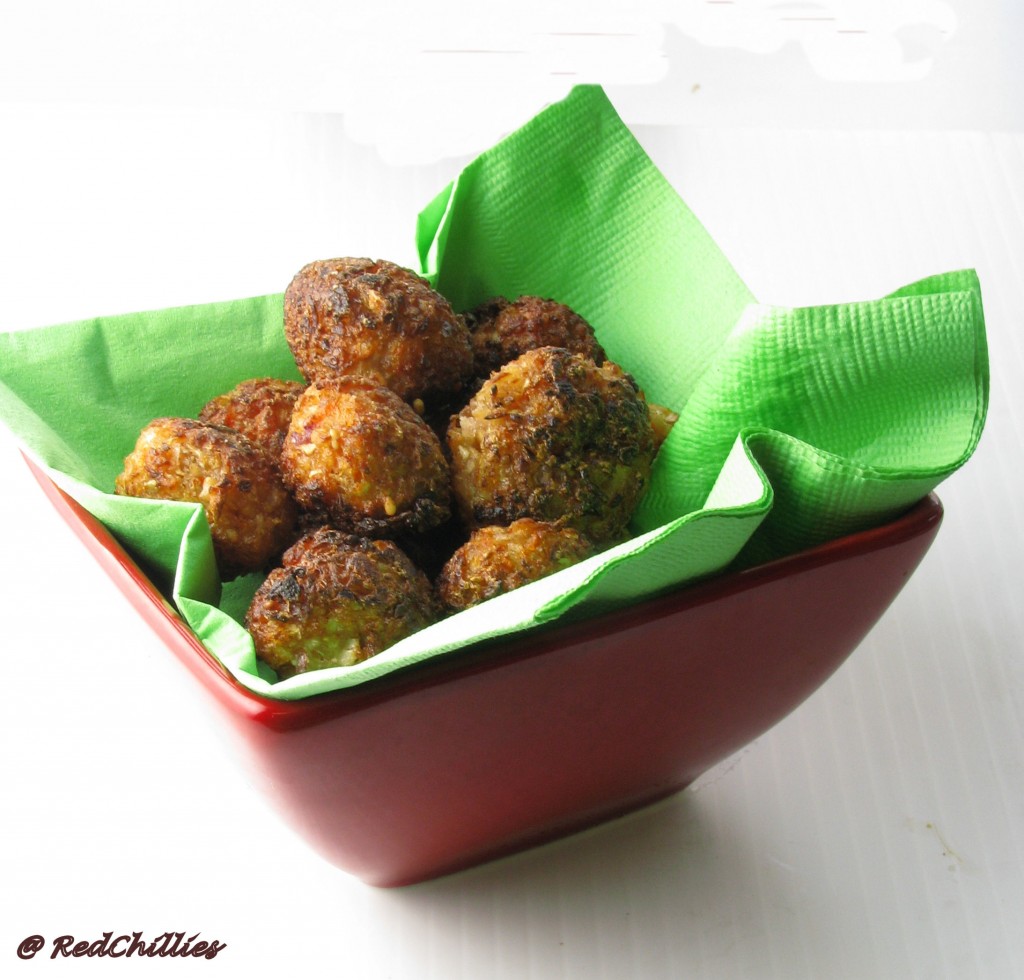 Ingredients:
Vegetables ( cauliflower+cabbage+carrots+broccoli) [After chopping grating should yield about 2 cups of veggies]
4 Tbsp corn flour
1 Tbsp All Purpose flour/maida 9add more)
1/4 cup finely chopped onion
1 Tbsp ketchup
2 tsp soy sauce
? Tbsp ginger grated
Crushed/milled pepper
Red chili powder (optional)
oil
Salt per taste?
Note: I use Aebleskiver Pan for making these vegetables balls that way I do not have to deep fry these, making?them healthier. These are crisp on the outside and soft and delicious on the inside.
Yields:
Approximately 25 balls.
Method:
Chop/grate the vegetables very finely. I use this chopper here and pulse all the vegetables (except onions) together.
Heat a heavy bottom pan, add some oil. Light cook the veggies along with salt until the raw smell/taste is gone. Let it cool.
In a bowl mix together the cooked vegetables; add some ketchup, soy sauce, onions, grated ginger, crushed/milled pepper, chilli powder.
Add the chopped coriander leaves, corn flour, AP flour and mix thoroughly and keep aside covered for 45 minutes. Check for taste; if necessary add salt, chillies etc.
You will notice that the vegetable mixture has become thicker.
Heat the Aebleskiver pan/ Appe skillet and add 1 tsp oil into each groove.
Make sure that the oil has become hot (not smoking hot). Drop a bit of batter to test and if you hear the sizzling sound, the oil is of the right temperature.
Take the batter and with hands shape them into small balls. Place the balls into each of the grove.
Reduce the heat a little bit at this time. After 30 seconds or so turn the balls with a steel spoon and let is cook on the other side.
These balls get cooked and brown fast. Make sure the balls do not turn dark brown or black in color. The one in the middle is the one that gets dark fast.
Let the remaining veggie balls cook correctly and turn them when done.
Eat them warm as is or with ketchup.