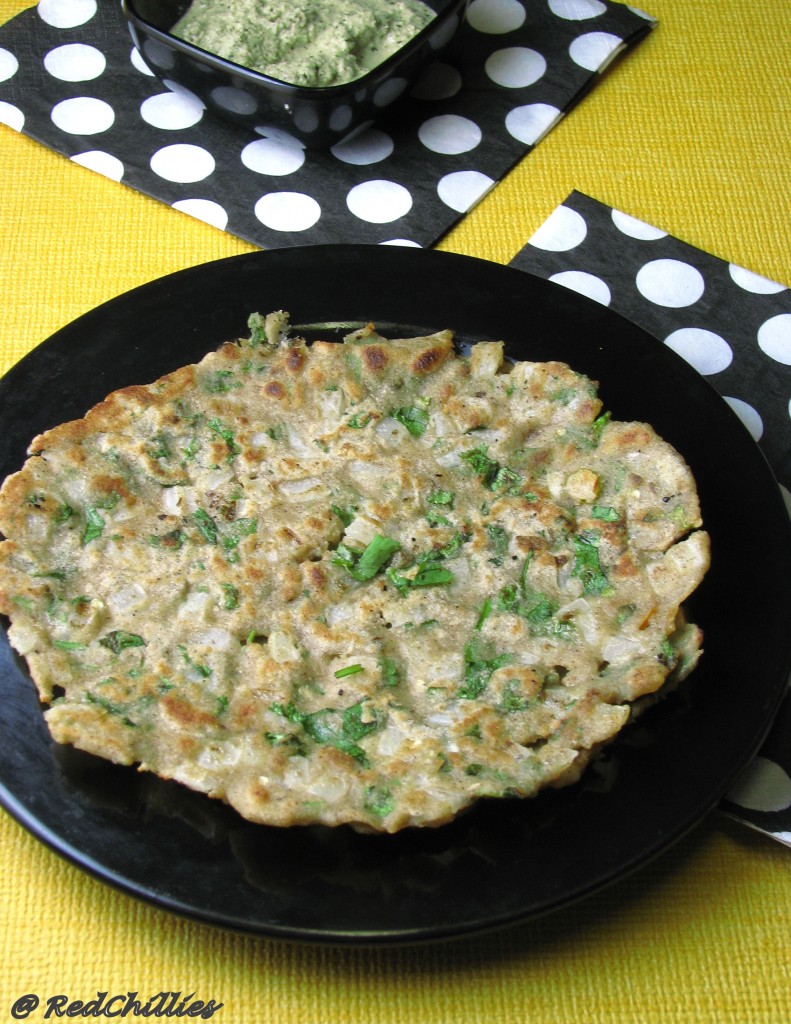 Jowar is an Indian name for Sorghum. Sorghum is gluten-free diet and is good in treatment of celiac disease and wheat allergies. It keeps bones and teeth healthy giving energy to the body. It also maintains the health of heart, controls diabetes, arthritis and weight of the body. (Health Benefits of Sorghum).
The most famous Indian flatbread made out of Jowar is Jolada Rotti. This is an unleavened flatbread, delicious, nutritious but tricky to make. Unlike the regular wheat flour chapathis, Jowar is gluten free, hence difficult to retain shape while rolling of the dough. Of course, it requires good practice and experience. My mom makes very good jowar Rotti and she serves it along with garlic chutney and Jhunka, the combination is simply mouth watering.
I have tried making them many times, but it is difficult to roll them thin and yet maintain its shape. So instead I make these Jowar Thalipeeth which my MIL makes often. Thalipeeth is a Marathi word for Multi grain pancake which also consists of onions, chilleis, cilantro etc.
The process of making these Rottis are very similar to Akki Rotti, the rice flour pancake. One can pat the prepared jowar dough directly over the pan; this requires good practice and care needs to be taken to see that the pan is not hot. ?I follow another method in which the Roti dough is patted on to a shape of circle on a plastic cover/aluminum foil. I then transfer the prepared circled dough onto the hot tava. I feel this method gives more flexibility as it is easy to control the shape and the thickness of the "Rotti". Either way they are nutritious!
These are served along with chutney and a dollop of ghee or butter on the side.
Ingredients:??
2 cups Jowar flour??
1/2 cup rice flour
?2 Tbsp wheat flour
? cup very fine? chopped onions (more the better)
3-4 green chillies cut finely
Grated carrot (optional)
1 Tbsp cumin seeds
2 tsp Sesame seeds (optional)
?Handful of chopped coriander leaves
?Salt to taste
?1/2 Tbsp warm butter/oil (while making the dough)
?Preparation: (making the dough)?
Take a big flat plate and spread in the jowar flour, wheat flour, rice flour. Add the remaining ingredients (except oil and cream) and mix well.
Warm the oil and pour it over this dry mixture.
Add warm water to this slowly and make stiff dough. Do not add all the water at once.
This should have a consistently of chapathi dough. The more the dough is kneaded the better. Cover this dough and keep aside for about 30 minutes.?
Method:?
Heat a tava/gridle on medium flame. Have some pre-cut round shaped plastic sheets/covers/polythene sheets ready. If they are not available use aluminum foils and cut into round shape.
Take a handful of the prepared dough and pat it on a greased plastic sheet/polythene sheet shaped into a circle (see above). Spread this around from the center, outwards evenly until even thickness is attained. It is better to pat this as thin as possible.
Place this on the tava, pat on the back of the polythene sheet which will transfer the flat dough to the tava/pan and then remove the plastic cover/sheet.
Note: If you do not wish to use the plastic sheet, pat it directly over the tava/pan. Make sure it is not hot.
Spread oil around it and cover with a lid. There is no need to crank up the heat. This is usually cooked on medium to medium high flame.
Turn on the other side, add some more oil and cook on other side.
Proceed with the same method for the remaining dough. Serve hot with chutney.