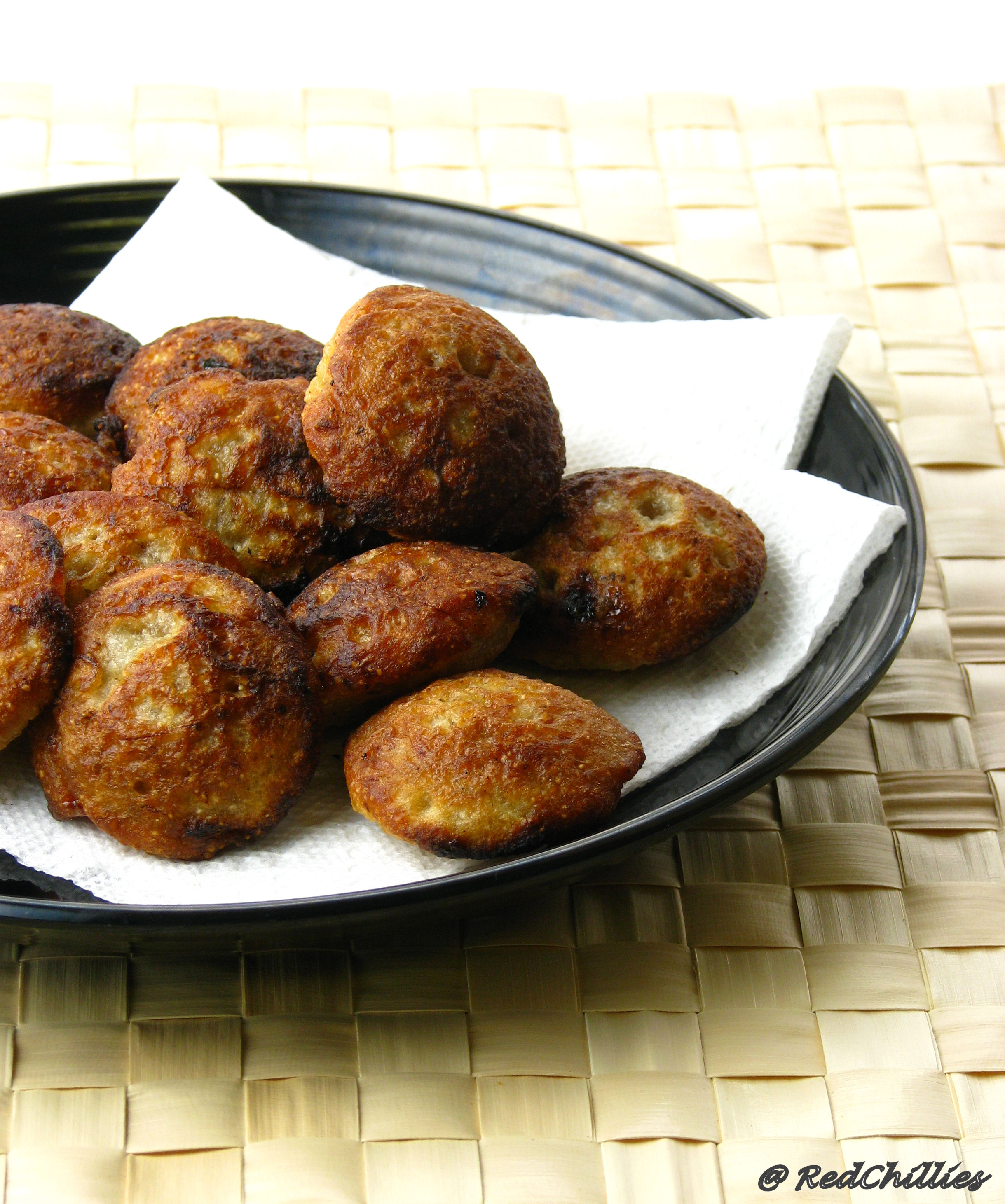 There is something fun and exciting about Road Trips isn't it? Just the thought itself gives me a warm feeling, good enough to drive away those blues! We had been on a Road trip recently for few days and it was good change for us to get away from the grind.?
Now what is road trip without good stuff to eat, right? Being a foodie it is not unusual for me to pack lots of stuff to munch and crunch along the way. So I packed the some junk stuff like store brought chips, cakes, chivdas, murukkus, chaklis etc. As if that were not enough I made this quick and easy Sweet Banana Appe to take along. Forget about those depressing things like dieting or calories as even they can take a break and go fish ???
OK you sense my excitement here, but let me make it clear, that these Appes are not loaded, but the other stuff that I mentioned before really are! The word Appe (Konkani cooking word) is also referred to as "Ponganalu/Paniyaram/Uniyappam/Paddu in different Indian languages and is cooked in a special skillet called Aebleskiver pan. To see how the Aebleskiver pan/skillet looks like check here.?
As I have said before, I made this for our trip, but then I did not have enough time to take bunch of pictures, but I did manage to get couple of pictures though. Any more pictures then I would have had to deal with the sneering looks of DH and DS. ??
?
Instant Sweet Appe Recipe
?You can also check other recipes using this skillet: Dahi Vada (Appe ), Malai Kofta Curry, ?Masala Vada, Instant Sooji Onion Appe, Low Fat Methi Pakodas (Appey Style).
Ingredients
1 cup maida/ All Purpose flour
1/3 cup sooji/ semolina/rava? (fine)
1 ripe banana (peeled and mashed)
1/3 cup sugar (increase if required)
? tsp cardamom
1 tsp baking powder
? cup milk
Salt a pinch
Coconut pieces (optional)
Oil
Makes approximately 20-25 Appes
Method:
In a bowl mix together Maida, sooji/semolina, salt, sugar. Add milk and mix well. Now add water so that it has a consistency of pakodas/bhajji (Neither thick nor runny)
Keep aside for 10 minutes. Finally add mashed banana, cardamom powder, coconut pieces and baking powder.
Heat the Aebleskiver pan/ Appe skillet and add 1 tsp oil into each groove.
Make sure that the oil has become hot (not smoking hot). Drop a bit of batter to test and if you hear the sizzling sound, the oil is of the right temperature.
Drop a spoonful of batter into each of the grove until they are half covered.
Reduce the heat a little bit at this time. After 30-50 seconds or so turn the appe with a steel spoon/knife and let is cook on the other side.
Note: This takes a longer time to cook, make sure they don't turn crispy as they become hard after a while.
These appe get cooked and brown fast. Make sure the appes do not turn dark brown or black in color. The one in the middle is the one that gets dark fast.
Make appes with the remaining batter and store them in a warm box.