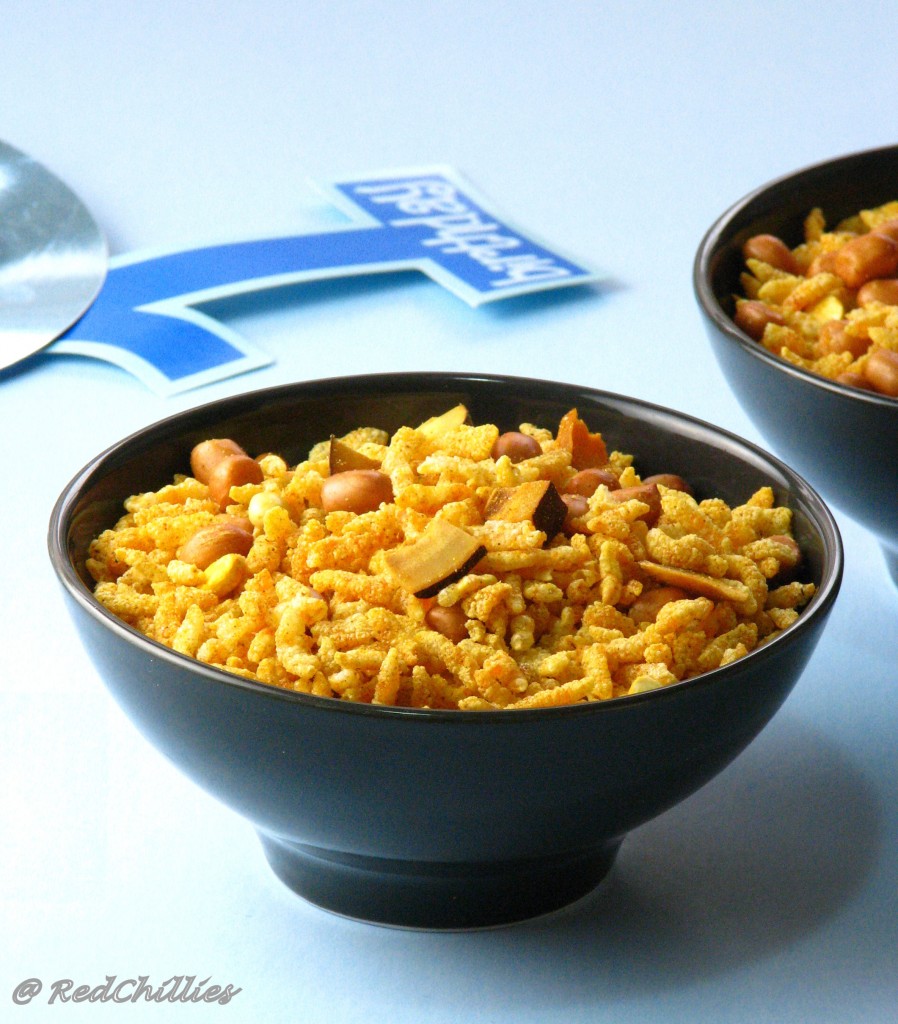 ?
You know the expression ""time flies" and it could not be true at the moment for us. Today morning as I sat around sipping my tea, I thought of the turn of events that happened to us in the past 2 months. There we were (what seemed like few days ago) in late August preparing to go to India and busy with the packing, shopping etc and then as if in a blink we are here almost at the end of October ready to welcome winter.
And before we know it, we will be bidding farewell to this year and then welcoming the New Year. Darn! Somehow I am not ready for this year to end, I wish it stays but it does not matter, does it?
The same thing applies to the plethora of festivals that came and went by. I remember waiting for the Ganapathi festival, as we would be celebrating with our family in Bangalore. The last time we celebrated it together was maybe 8-9 years ago. Anyway, now that is gone and so also Dasara. The only remaining major festival for this year is Diwali and hopefully we make the best of it.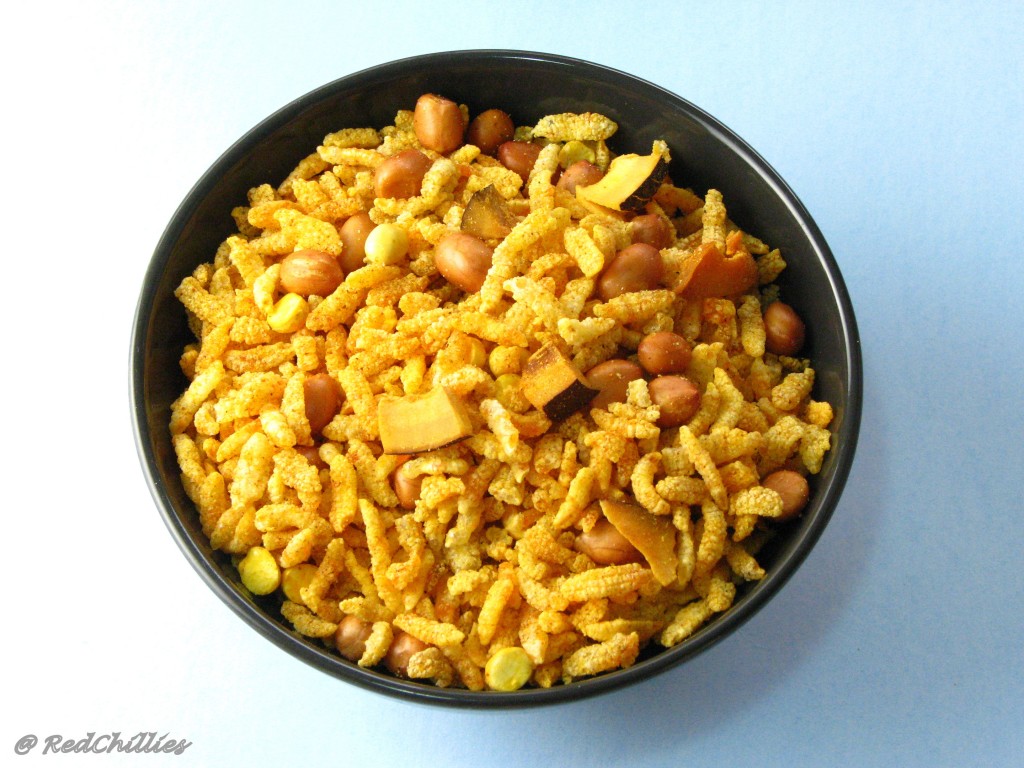 Speaking of Diwali, it has been a major festival in our family for years. No Diwali is complete without the preparation of plethora of delicious items referred to as "Faaral'"(Marathi). Faraal consists of both sweet as well as savory items. Some of the items in the list include Shankarpali, chakli, ladoos, karanji, burfee, chivda, nankhatai etc.
Chivda is a popular snack of Maharashtra made of flattened rice/phoha/avalakki which is in turn spiced with masala. It is then jazzed up with other ingredients like coconut flakes, peanuts, raisins, cashews, dalia etc. In Bangalore it is referred to as chow chow mixture or just mixture. ?There are different ways of making it, but this is how my Mom makes it and I follow it this way.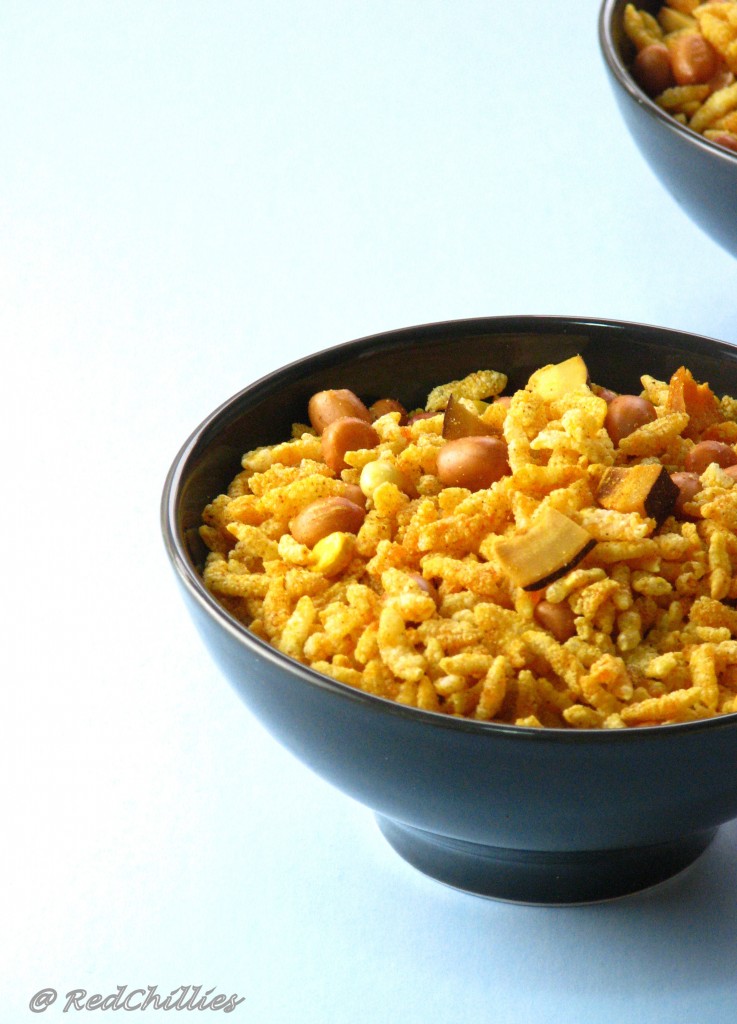 Ingredients
2 cups thick Poha /Avalakki//Flattened Rice
? cup Peanuts/ Groundnuts
? Cup Dry Coconut pieces
? cup Roasted gram/Dalya/hurgadle(puttani)
Cashews/raisins (optional)
Oil for Deep frying
Masala Powder
1 tsp Red Chili Powder
? tsp rock salt/Kala namak
? tsp Turmeric Powder
1 tsp Sugar
Salt to taste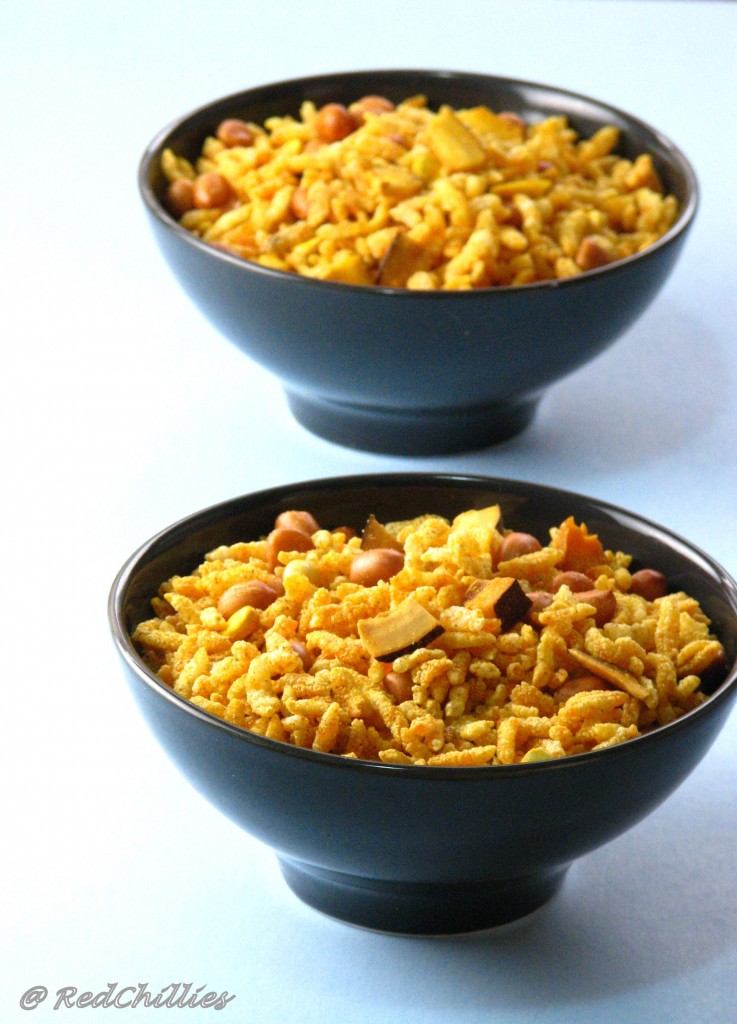 Method:
In a small bowl mix together the ingredients for the Masala Powder. Check taste and adjust ingredients as needed. This has to be strong as this will be spread over the fried poha.
Heat oil in a big deep frying pan over medium heat.
Keep all the things needed for deep frying handy. Also keep a big plate covered with paper towel ready.
First, deep fry the groundnuts and then transfer to the plate. Next fry the dalia/puttani followed by dry coconut pieces in rapid succession. (no need to deep fry for long time).
Now divide the poha so that it can be fried in 3-4 batches.? Deep fry the first batch and transfer to the plate. Use more papers as required to drain the oil. (Note: poha consumes lot of oil when deep fried).
Take about 1 tsp of the masala powder and sprinkle over the fried poha and mix well. The masala should be added to poha when it is hot as it sticks better.
Next deep fry the next batch of poha, transfer to the plate and sprinkle another spoon of masala and mix well. Repeat until the poha is finished and mix well.Add the masala powder more as needed.
Store in dry airtight containers.