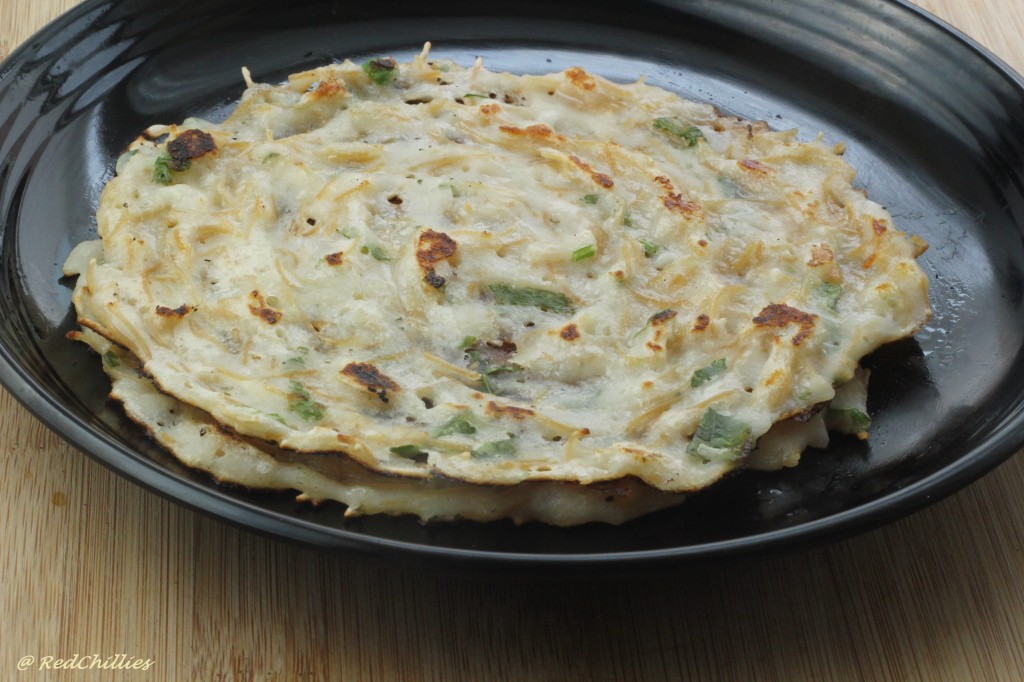 I am so used to using Semiya/Vermecelli in either Yogurt Semiya or Vermecelli Kheer and the usual Semiya Upma that the idea of making Semiya Dosa intrigued me.
I learnt this Dosa recipe from a colleague of mine at work who had got this for her lunch. I loved the variation of using vermicelli in Dosa and got the recipe from her.?
I tried this last week and the kiddo loved it as well along with ketchup. If you want to make it kid friendly then reduce the quantity of green chillies in the recipe. We loved it along with mango pickle.
Ingredients:?
1 cup Semiya/ vermicelli ( I used roasted vermicelli)
? cup Rice flour
1 cup yogurt/ curd
1 green chilli finely chopped
2- 3 Curry leaves (chopped)
1 Tbsp Coriander leaves
Salt – to taste
(Chopped onions + grated carrots )optional
oil
?
Method
In a bowl add the yogurt and thin it out with ? cup water. Stir and add salt, curry leaves, green chillies and coriander leaves.
Add the vermicelli and rice flour and mix thoroughly. It might be difficult to mix with the vermicelli, but mix it in intervals.
The batter at this point might not be thick. Keep the mixture aside for 30 minutes and now the yogurt gets absorbed by the vermicelli and becomes thick.
Heat a tava and pour a laddle full of the batter in the center. Using the back of the ladle spread from center in form of circle. This dosa will be thick compared to the regular urad dosa. (Add chopped onion and grated carrot in the middle)
Spread some oil around the dosa and at the center. After the dosa has cooked, flip it over and cook on the other side.
Serve hot with some chutney or pickle.
?