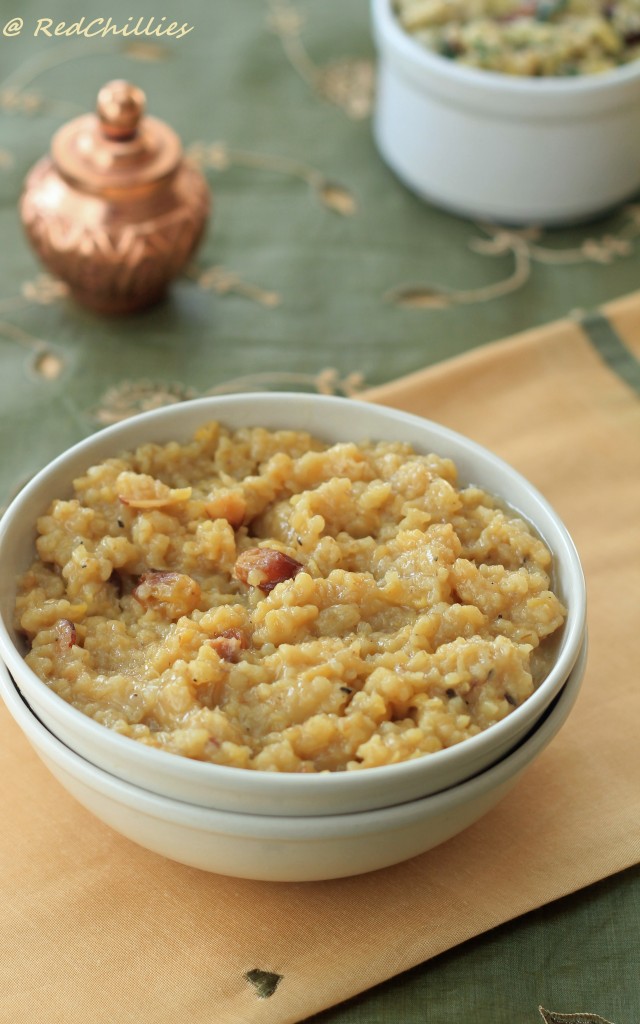 Sweet Pongal is a South Indian traditional dish made with the combination?of rice, jaggery and moong daal.?It is like a thick porridge with gooey consistency. ?This along with the spicy khichdi/ Khara Pongal is prepared during special occasions and also during the festival of?Pongal/Sankranthi . This sweet pongal is something that is adored in our family.
During festivals, I mostly prepare this dish using the traditional method of rice and moong daal. However I had some broken wheat/dalia that I wanted to use and so decided to try this sweet, by substituting rice with dalia.
?I had tried the spicy pongal using dalia before and loved the taste. So trying out the sweet version seemed like an obvious next step. I love the texture of cooked broken wheat in this khichidi. Even though it is soft, you can feel its mild presence while eating it. Taste wise there is no difference compared to the rice based khichidi/pongal.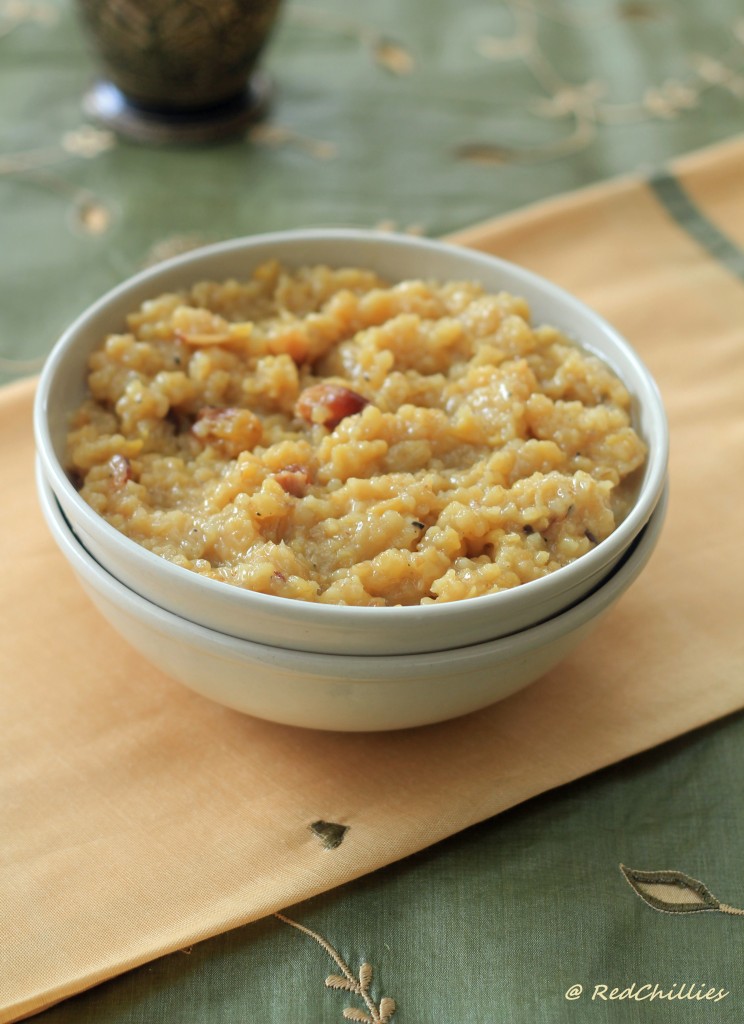 Ingredients:?
? cup broken wheat/dalia
1/4 cup moong daal (split)
1.5?cup jaggery
1 cup milk
3 cups water
1/4 cup dry coconut [use regular coconut if dry not available]
1/4 tsp cardamom powder
5-10 raisins
2 tsp Ghee (clarified butter)
5-10 cashews pieces
?Method:
?Cook the dalia along with the moong daal by adding 1.5 cups water and 1 cup milk. This should be mushy and soft. (I use the pressure cooker for this). Keep aside.
Heat a heavy bottom pan, and melt the jaggery along with little water (1/4 cup).
After it is hot and bubbly, add the cooked dalia+ daal mixture and stir well.
Continue stirring in intervals until the water evaporates and the mixture thickens up.
Then add the dry coconut mixture and continue to stir. If this is too dry, add little more milk to this.
When it has reached the desired consistency, add the cardamom powder, 2 tsp ghee, mix?well, close the lid and switch off the gas.
In a separate pan heat ghee and add the raisins and cashews. Stir until the raisins plump and cashews get a brown color.
Add to the sweet dalia mixture, stir and close the lid. Serve warm.