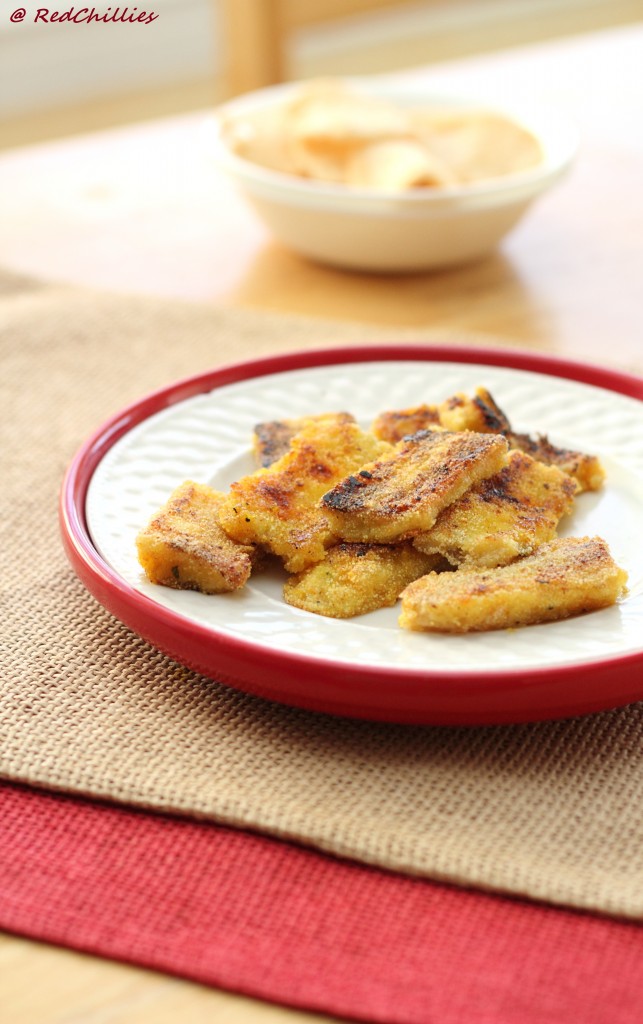 Have some extra bananas that are ripe and waiting to be used? Then this is a good way to make use of the ripe bananas. This is a typical GSB (Gowd Saraswath Brahmin) dish, commonly made in the Konkani households. I do have to mention that many people refer to the deep fried version as Podi, however we refer to the pan fried version as Podi and the deep fried version as Bhajji.?
Crispy on the outside and soft in the inside it is a total delight. The recipe could not be simpler. You cut the bananas, coat them in spicy rava/sooji mix and shallow fry them on a pan. In fact, you can substitute bananas with any other vegetable like potato, brinjal, raw banana, bitter gourd etc.?
This is eaten as side dish along with rice, daal and any upkari/stir fried sabji.
Ingredients?
2-3 ripe bananas (not very ripe, it should be able to hold its shape)
2 Tbsp fine sooji/rava/semolina
1 tsp red chilli powder
? tsp turmeric
Salt to taste
Oil (for shallow frying)?
Method?
Peel the banana and chop into little less than ? inch discs. I chopped them in the shape of rectangle. Keep aside.
In a small dry plate mix the sooji/rava, red chilli powder, turmeric and salt.
Now heat a tava or pan, when it is warm enough drizzle about 1 Tbsp of oil all around.
Take each piece, coat them in the spicy sooji mix on both sides thoroughly (making sure no part is left open) and place them on the pan.
Continue this process with some discs. Make sure not to over crowd the pan.
Add about ? tsp of oil around each of the discs. This cooks very fast and the edges brown.
Using a good spatula, turn each of the pieces around and cook on the other side. Transfer to a plate.
Serve this as a side dish along with rice, daal or as a snack or?appetizer?along with tea.?