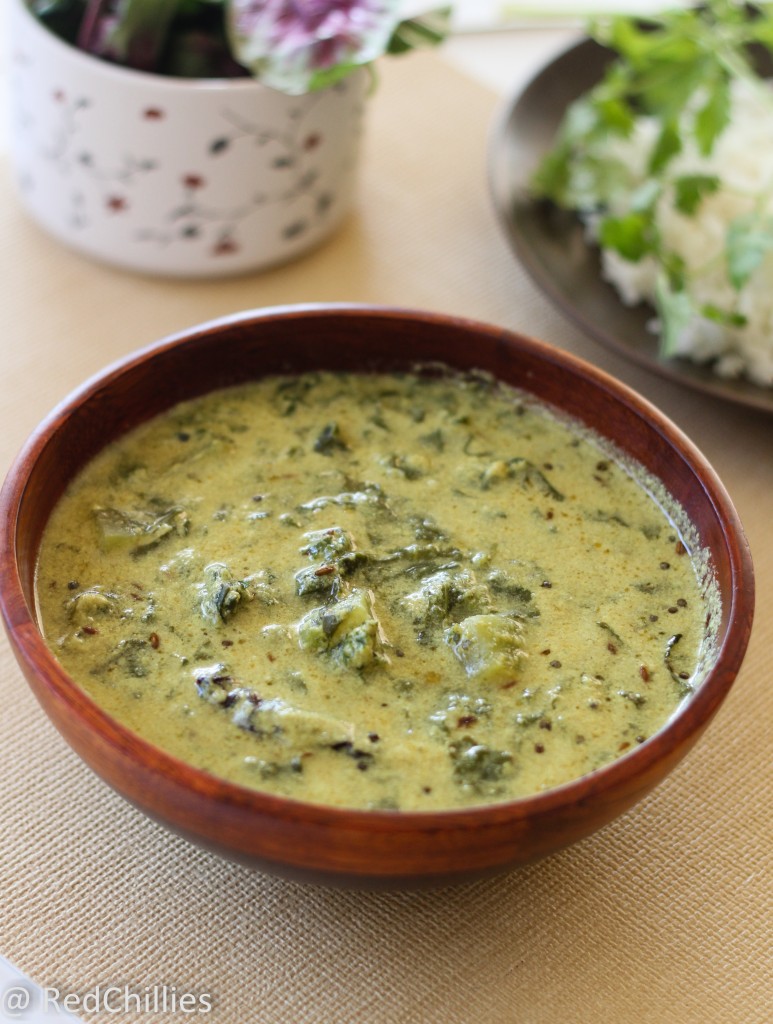 A mildly flavored coconut curry cooked with sour yogurt to give it a mild tangy taste; this is called as Majjige Huli in Kannada, Majjige Pulusu in Telegu and Mor Kozhambu in Tamil. In Karnataka this dish is prepared during festivals and on other auspicious occasions. The presence of yogurt has a cooling effect on the body. You can add any veggies of choice like potato, okra, ash gourd, bottle gourd, raw mango etc and skip the greens. I love the addition of greens along with squash in this dish.
Ingredients:
2-3 cups packed chopped Amaranth greens ( you can use spinach or other greens) [dantina sappu/thotakura]
1 cup chayote squash (optional)
? cup sour buttermilk/ (?2 Tbsp sour yogurt?diluted with water )
Salt to taste
Grinding:
1 cup shredded coconut (fresh or frozen)
2-3 green chillies
1/2 Tbsp jeera (cumin)
? Tbsp coriander seeds
1 Tbsp chana daal (soaked)
Seasoning
1 Tbsp oil
A pinch turmeric
1 tsp mustard seeds
5-8 curry leaves
2-3 dried red chillies (cut into thirds)
A pinch Asafetida/hing?
Method:
Soak the chana daal in water for about 1 hour.
Clean the greens and then chop them finely. Peel the chayote squash and then cut into cubes.
In a saucepan, cook the greens and chopped chayote squash in little water separately either on stovetop or in the microwave. Add salt while cooking.
Meanwhile grind the coconut, green chillies, jeera, turmeric, coriander seeds, soaked chana daal with enough water and make a fine paste.
After the greens are cooked, add this ground masala paste to this, add water, mix and allow it to boil for 5-10 minutes
When you see the bubbles on top reduce the heat. Now add the buttermilk, mix and after one boil switch off the gas. If you boil more the buttermilk may curdle.
Meanwhile separately in a pan make a tadka of mustard seeds, curry leaves, broken red chilies and hing. Add to seasoning to this boiled curry. Cover with lid.
This goes well with Rotis or with warm rice.