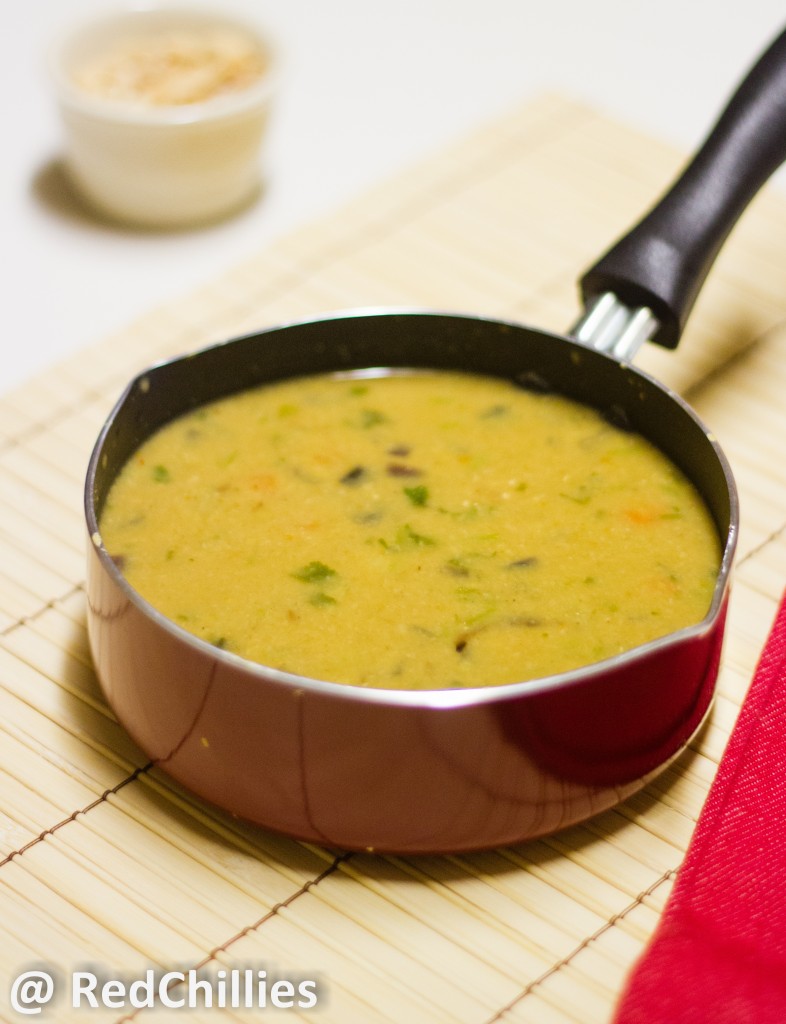 Daal is an important part of our everyday meal. Any one type of daal is a regular, be it daali thoy, daal tadka, rasam or sambhar etc and our meal is not complete without it. Now these are all non-coconut, daal rich dishes which does not require grinding. However on occasion I make coconut based daal like Kootu or this Konkani daal curry called Daali Ambat which definitely requires grinding a masala.?
Ambat in Konkani refers to a coconut curry in which the seasoning is made of onions. Daali Ambat is daal based coconut curry in which has seasoning of onions.?
My mom makes this frequently however she does not add any vegetables to the curry, while my ma-in-law makes this by adding plenty of vegetables. Either way it is warm and comforting.
Ingredients:
3/4 cup Toor daal
1/2 cup fresh/frozen shredded coconut
1 tsp coriander seeds
4-5 dried red chillies
1 Tbsp tamarind/ tamarind extract from lemon sized ball (soaked in water)
Salt to taste
A pinch asafetida/hing
1 cup chopped vegetables of choice (potato + carrot +peas+ cauliflower) [optional]
Seasoning:?
1 small onion (chopped)
2-3 dried red chillies (cut into 2-3 pieces)
4-5 curry leaves
1 Tbsp oil?
Method:?
Pressure cook the daal in water for 3 whistles and set aside.
Boil the vegetables along with salt in sufficient amount of water separately either in the microwave or the stovetop. Make sure it is not overcooked. Keep aside.
In a small pan, heat oil and roast the red chillies and coriander seeds.
Now make the coconut masala, by grinding coconut along with roasted red chillies, salt, tamarind, water and roasted coriander seeds. The masala should be made into a very fine paste. Add more water if required.
Heat a sauce pan and add the coconut paste, cooked daal together. Boil until the raw smell of coconut is gone. Check for taste and adjust the seasonings if required.
?In the meanwhile heat oil in a small pan (use the same one for roasting redchillies and coriander seeds). Add the chopped onion, curry leaves, red chillies and cook unitl the onion turns light brown.
?Put this tadka over the boiling daal, switch of the gas and cover with lid. Serve hot with rice or rotis.??