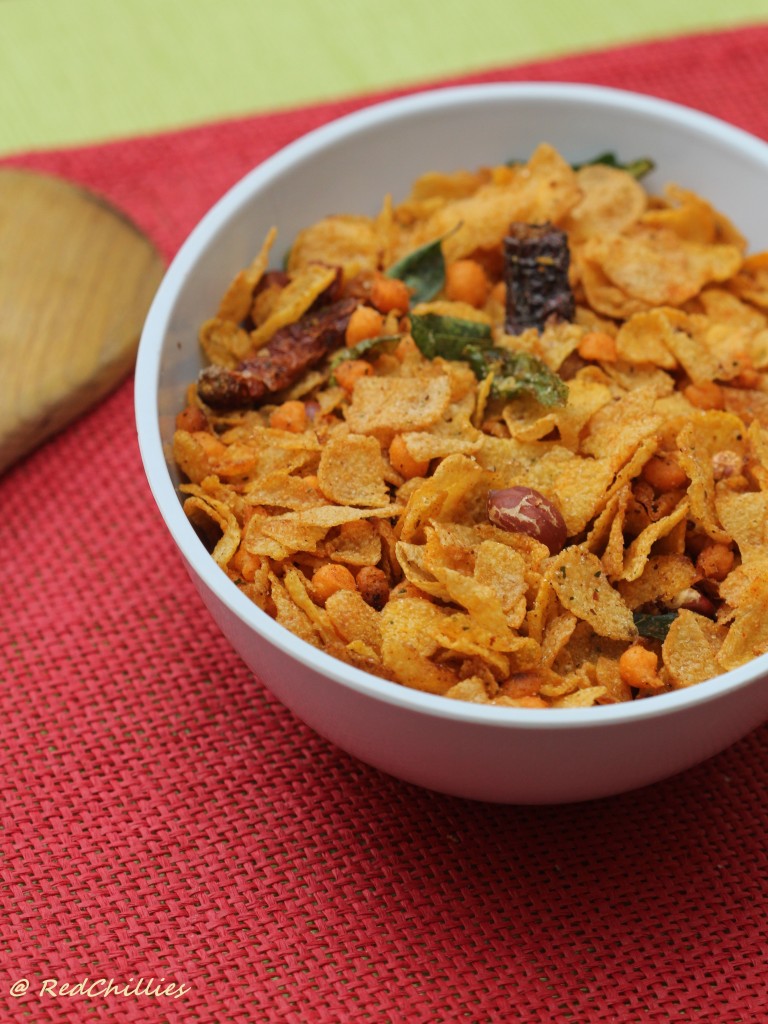 Chivda is a snack popular in Maharashtra and North Karnataka usually made of flattened rice/poha. The poha is first deep fried and it is then spiced with masala mix and jazzed up with other ingredients like peanuts, raisins, cashews etc. Crispy and delicious it is a wonderful tea time snack or also as an appetizer.
Referred to by different names in India, it is one of the important snacks made during the festival of Diwali. It is simply referred to as Mixture in South India
As I have said in an earlier post, the poha can be substituted with corn poha and made the usual way. You can see the deep fried version of regular poha chivda and Corn Chidva here.
In this version of Chivda/Mixture, I have used the cereal Corn Flakes and dry roasted it along with some masala mix and raisins, peanuts etc. This is quick and low –fat version and does not involve deep frying. I have adapted this from the Veg Inspirations recipe and followed her advice of making roasted curry leaves and red chilli powder for the spice mix. That makes a huge difference to the taste, so do not skip it.
You can make this day ahead and store it in an air tight container.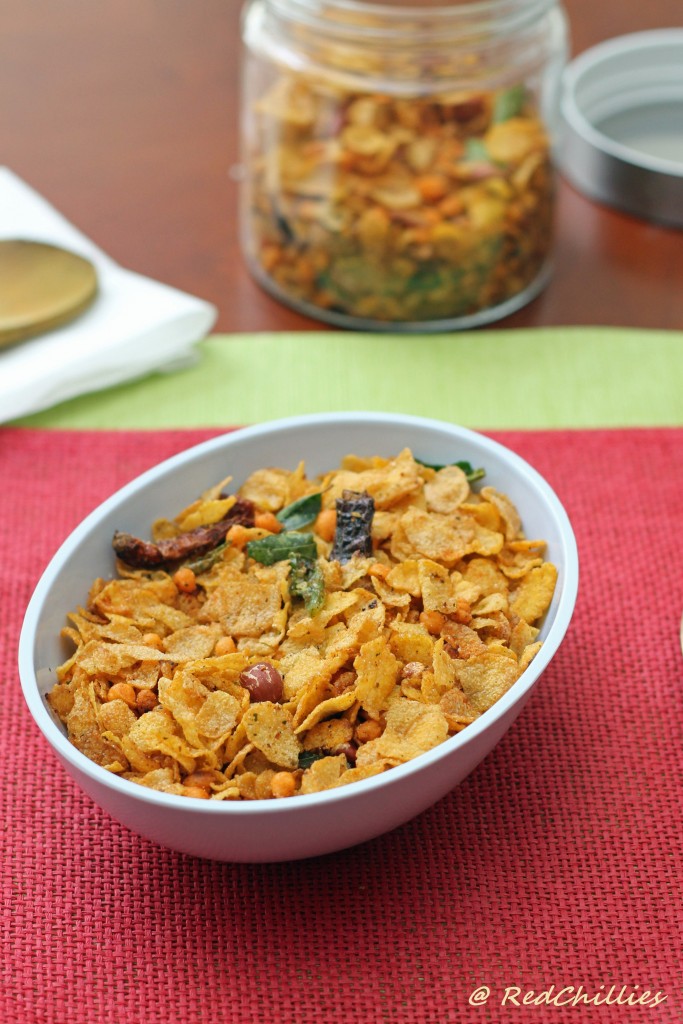 Recipe Adaptation: Veg Inspirations
Ingredients:
3 cups corn flakes (I used this brand)
1 cup readymade Boondi/sev
3/4 cup peanuts (raw with skin)
1/2 cup raisin (optional)
3 Tbsp oil
2 tsp mustard seeds
3-4 green chillies(slit)
A pinch asafoetida (hing)
4 dry Red chillies [to make powder]
2-3 red chillies (dry for seasoning)
1 tsp Aamchur powder
10-15 curry leaves
2 tsp sugar
salt to taste
Method:
Heat a small pan and roast red chillies and curry leaves in a drop of oil, until the chillies start turning darker and the curry leaves loses its green color and looks dry. Keep aside to cool.
Spice mix: After it is cooled, grind it in a dry grinder/spice grinder. Transfer it to a small bowl, add sugar, salt, aamchur (dry mango powder) and mix well. Check for taste, as this has to be pretty strong.
Heat oil in a large heavy bottomed pan, add the mustard seeds. When it splutters, add the hing/asafetida, 2-3 red chillies (broken), green chillies, peanuts, and raisins to this and sauté until the peanuts turns crispy.
Note: Make sure it is on medium flame else the peanuts/groundnuts will turn brown.
Add the corn flakes cereal to this and stir it well for about 30-40 seconds until the seasonings coats well.
Sprinkle the spice mix/ ground spice mixture in small batches and mix well.
Add the readymade boondi or sev and mix again. Stir on low flame for about 3-4 minutes until it gets crispy.
Allow to cool and transfer to air tight container.