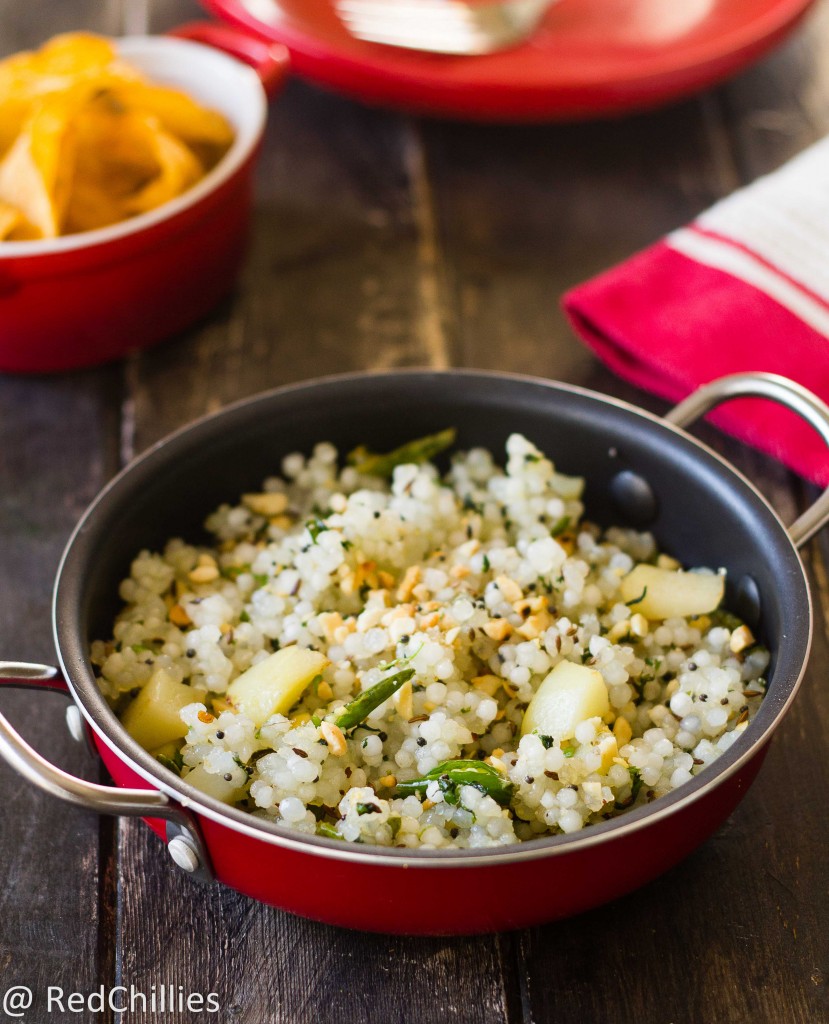 Sabudana also known as Tapioca or sago is used for making khichdi, vada, kheer and sun dried vodi. This khichidi is an awesome combination of sweet, salty, spicy and tangy topped with peanuts which give it a light nutty crunch. Sabudana khichidi can be eaten for breakfast, as a snack and while fasting as it does not have garlic or onion.
This has been a childhood favorite of mine and our Saturday's would not be complete without the Sabudana Khichidi as evening snack followed by a movie on Doordarshan.
When I tried making this earlier, I did not get the desired results until now. It would turn either soggy or dry without desired results. I did some research over the internet and checked with friends. Some good advice from her about the soaking process and the cooking process from her and I was on my way making a decent Sabudana khichidi after a long time.
And finally some good news! Yay! FoodWorld is now slowly limping back to normal. Few weeks ago it crashed as it had accumulated bulk load of data and showed no hopes of recovery. After spending weeks together removing old data, trying some new techniques it seems to show some signs of life. In the process of reviving some data or blogs maybe lost; so do not hesitate to send me an email if you find something missing and I will look into it.?
Thank you to those who enquired about the status and for the patience while it was down. I have not been able to respond individually to the emails. I will now continue to add the blogs to the aggregator for which I have received requests.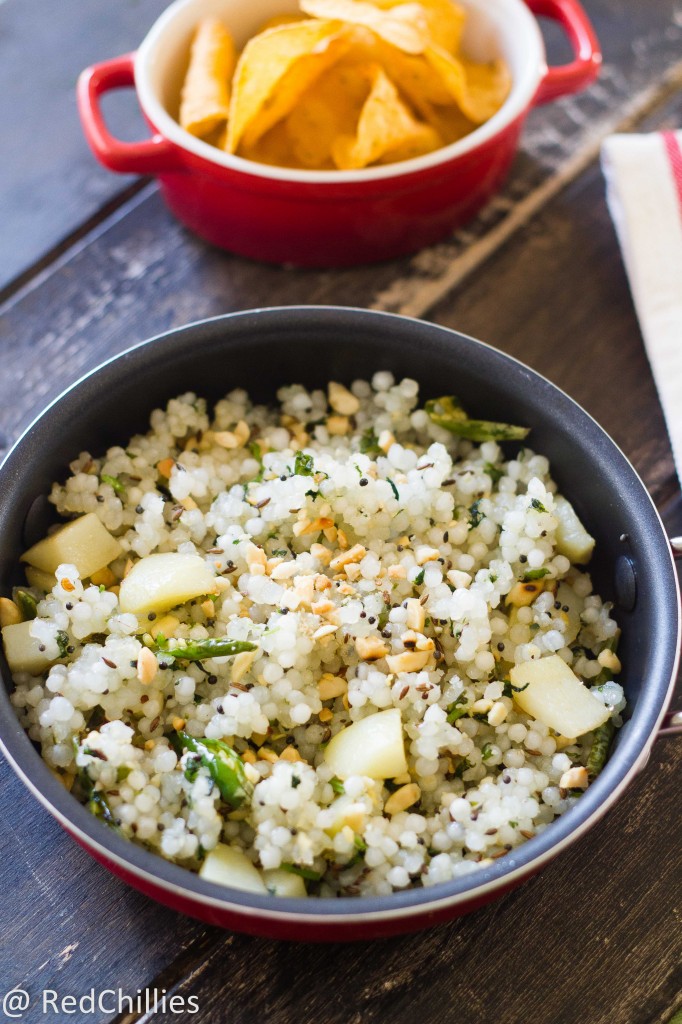 Ingredients?
1 1/2 cups of Sabudana/Tapioca/sago pearls (washed and soaked for 5-6 hours)?
1/2 cup of potatoes, (peeled and chopped into small cubes)
1/2 cup of dry roasted peanuts (crushed coarsely)
3-4 curry leaves
1/2 tsp of cumin seeds/jeera
4-5 green chillies( finely chopped)
1 tsp sugar
3 tsp oil
Salt to taste
Juice of a lemon1/3 cup shredded coconut (optional)
Handful of cilantro leaves for garnish?
Method?
Wash the sabudana in enough water twice or thrice and drain the water. Now soak it in a flat bottom container with just enough water to cover its top. Do not add too much water. I soak it for about 4-5 hours and fluff it with fork bringing the pearls from bottom to the top (that way the ones in the bottom do not get soggy).
I prefer not soaking this overnight as I can keep an eye on the sabudana and fluff them in between. After the water has been absorbed, the sabudana puff up like pearls.
Note: If you feel that the sabudana has become very dry then you can sprinkle some water and mix.
Take a pan and dry roast the peanuts till evenly brown, then remove the skin and pulse them into a coarse powder. Keep aside.
Peel the potato and chop them into small pieces and boil it separately.
Heat a pan and add oil in it. Add the cumin seeds, curry leaves, chopped green chillies and the cooked potatoes. Sprinkle some salt and stir until the potatoes get crisp on the outside.
Now add the sabudana to this and toss well on medium flame. Cover with lid for a minute.
The sabudana will become translucent when they are done. After the sabudana is cooked completely, add the coarse peanuts,coconut (optional) and lemon juice.
Toss to mix and switch off the heat. Garnish with the finely chopped cilantro leaves.
Note: Add very little water if you feel it's dry.?