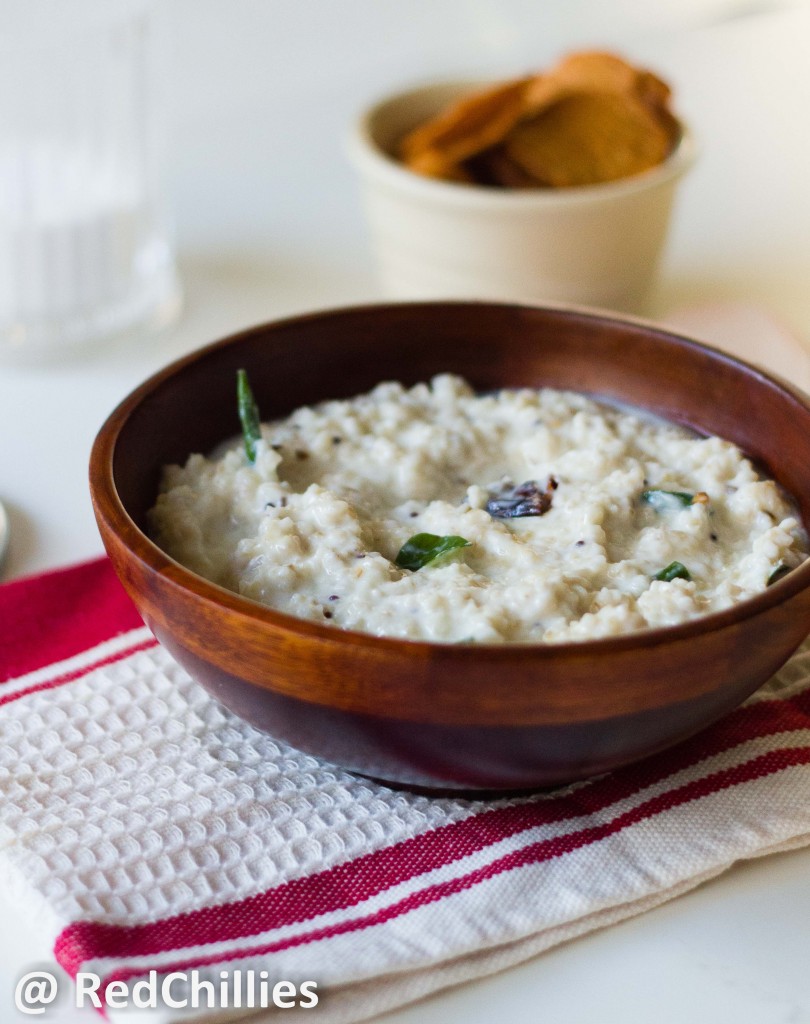 What could be more cooling than seasoned yogurt rice? Having grown up in the South of India, where yogurt rice or curd rice is so ubiquitous and being accustomed to the taste our meal is not complete without a small bowl of yogurt rice.
I have experimented quite a bit with broken wheat and prepared kheer, sweet pongal and also spicy pongal all with good results. So this broken wheat with yogurt is an extension to that experiment; thankfully with desirable outcome. This is very easy to prepare, cool for the body?and so nutritious. Yogurt is mixed to the already?cooked broken wheat and aptly seasoned with regular tadka ingredients. Taste wise I did not feel any difference as compared to the regular yogur rice; however you may feel a difference in the texture.
Adapted from: Blend With Spices
Ingredients:?
3/4 cup broken wheat/dalia
2 cups of yogurt ( I used low fat)
? tsp mustard seeds
? tsp cumin seeds/jeera
? tsp urad daal
2-3 green chillies(slit and chopped)
2-3 dried red chillies (cut into bits)
5-10 curry leaves
salt to taste
2 tsp oil
Method?
Boil two cups of water, add salt and add the cracked wheat to it. This does not take a long time to cook, partially cover with lid, stirring so that it does not stick to the bottom and then turn off the flame. Drain any remaining water and set aside.
After it has cooled completely transfer it to a plate.
Meanwhile beat the yogurt well in a bowl making sure there are no lumps. Add little milk or water if required, to get to the correct consistency.
Add this yogurt, chopped green chillies to the boiled dalia and mix well.
Heat oil in a pan and add mustard seeds, cumin seeds and let it splutter. Add urad daal and mix until it turns light brown.
Add the curry leaves, broken red chillies and fry briefly. Switch off the heat and let it cool down.
Add this to the yogurt dalia and mix well. Let this seasoning marinade well with yogurt for about an hour before serving.