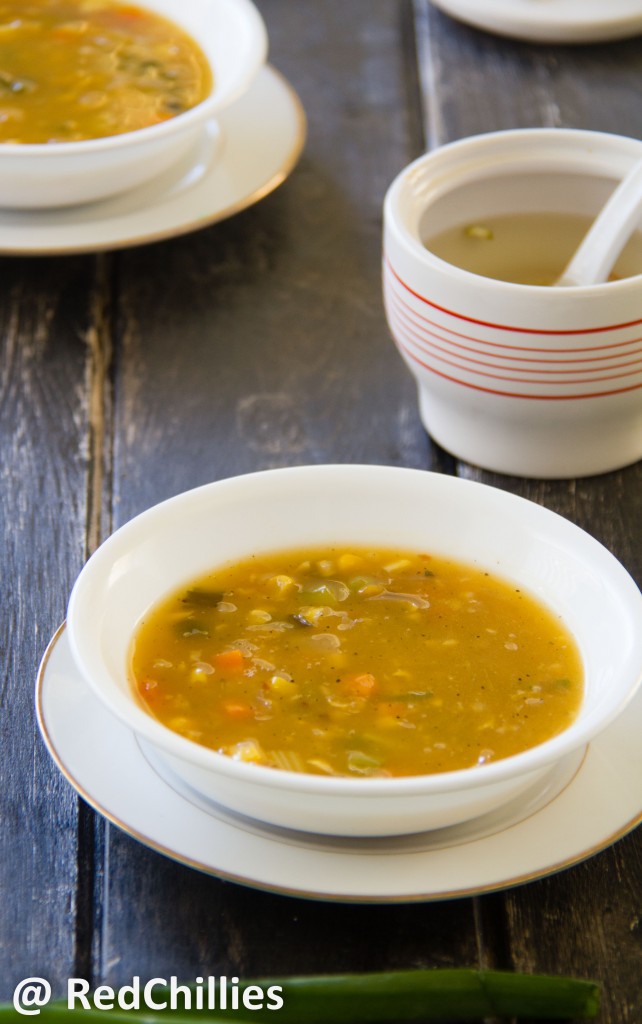 Sweet corn soup is one of our favorite soups to order at an Indian restaurant. Thick and creamy with a healthy dose of vegetables it is a great way to start a meal. It is an Indian Chinese soup recipe which can be easily made at home using fresh or canned corn and few other ingredients.
I decided to make this at home for an Indo Chinese style potluck dinner. I received guidance from her about the procedure and she suggested using cream style canned corn. Cream style corn has a good amount of crushed corn and it helped in bringing in the right taste and the desired creamy consistency.?
Just a quick note, since I had put in some soy sauce and ketchup the color has turned pale yellow otherwise it was white to begin with.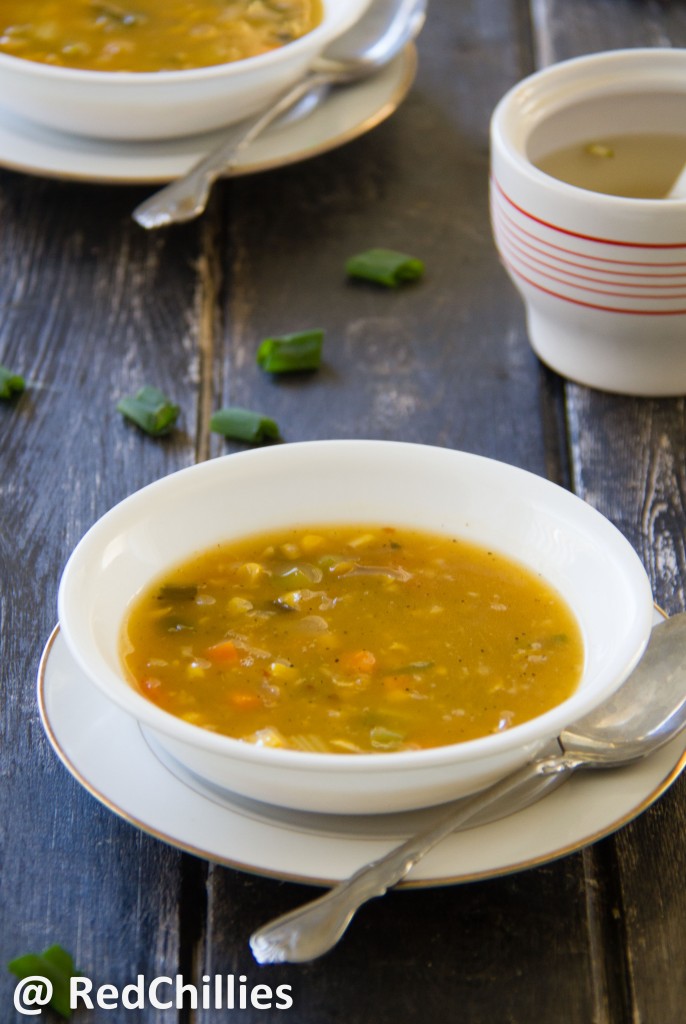 Adapted from: Show Me the Curry?
Ingredients:
1 can cream style corn
1 can vegetable broth
1 tsp ginger (grated)
1 tsp garlic (minced)
? cup carrot (finely chopped)
? cup celery (finely chopped)
2 Tbsp onions (chopped)
1 Tbsp oil
Salt to taste
Black pepper powder (taste)
2 tsp corn starch (mixed with ? cup water)
2 green onions (chopped diagonally including the whites)?
Method:
Heat oil in a medium saucepan (preferable non-stick) and then add the ginger and garlic and cook until it turns light brown.
Add the chopped onion and cook until it turns translucent.
Add the celery and carrots, little salt and sauté for 2 minutes until the carrot cooks a bit.
Now open the cream style corn can and add this to the mixture. Mix and add salt and pepper.
Note: Clean the can with little water and scrape any corn paste add the contents to this mixture.
Add the vegetable stock, mix well and bring it to a boil.
Meanwhile in a small cup make a paste of corn starch and water with no lumps.
Add this to the soup and cook again.
Garnish with spring onions (green part) and serve hot.?