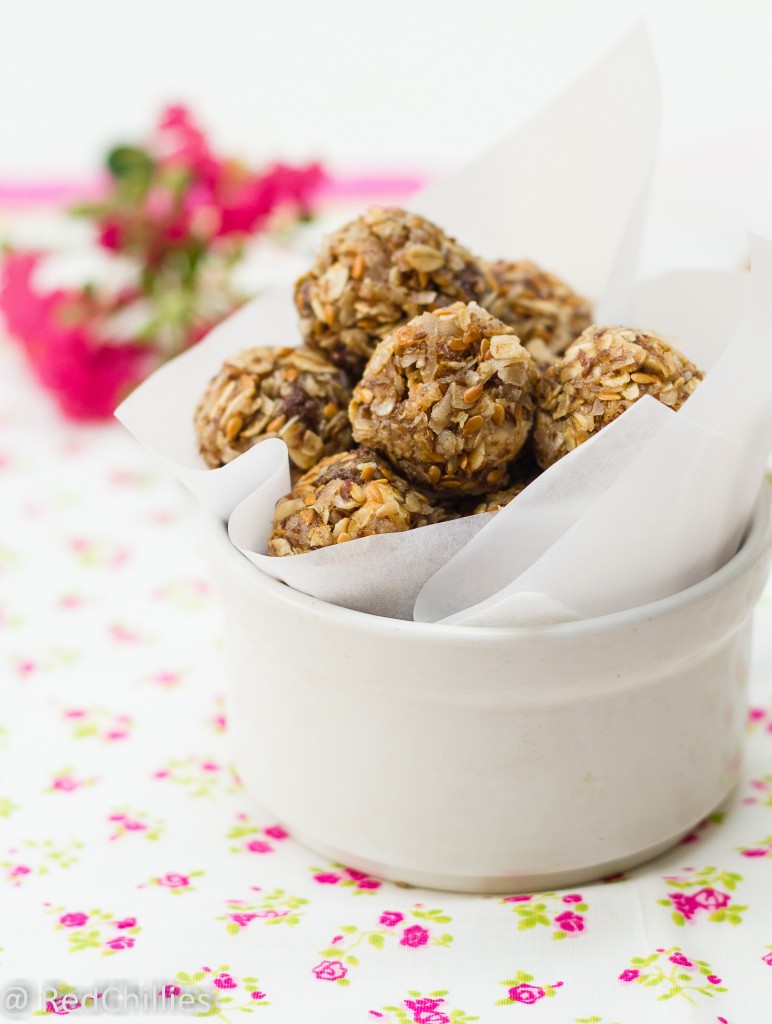 When I stumbled onto the No Bake healthy energy balls, I knew I had to try them. There are many reasons why I love this simple yet healthy recipe. For starters, there is no baking, microwaving, or any stove top cooking involved; it is as easy as mixing up the ingredients and transferring them to the refrigerator. And then it uses up all natural ingredients and there is no sugar, butter or oil involved. It is all healthy ingredients rolled into the goodness of a ball.
?I had a big stash of flaxseeds and ground flax seeds meal in my pantry waiting to be used and this was a good way for using it up. I personally loved the addition of toasted coconut in this, but not so much with the chocolate chips. The next time I make this, I will surely substitute the chocolate chips with toasted walnuts or pecans.?
Below the recipe instructions you will see some substitution ideas and you can use your creativity and add your own favorite ingredients.?
These taste like store bought energy bars and oh so delicious. Be forewarned that these balls are highly addictive. ??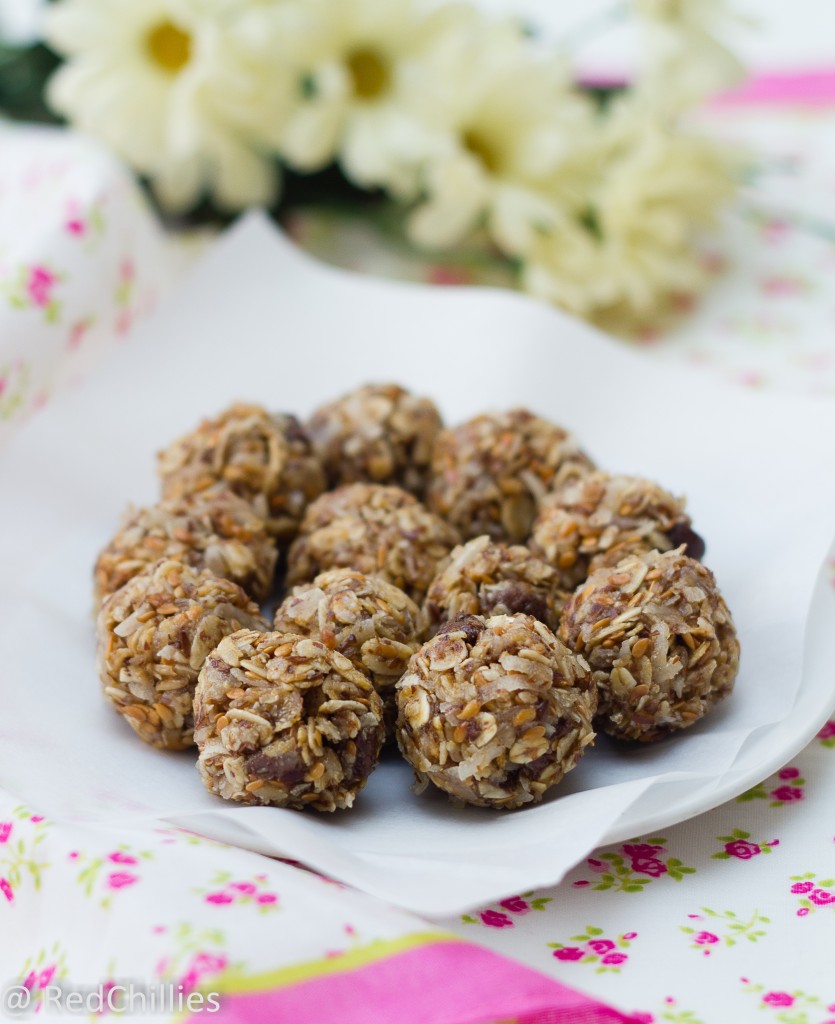 Recipe Adapted from: No bake energy bites?
Makes: About 15-18 medium balls
Ingredients:
1 cup oatmeal (I used old-fashioned oats)
2/3 cup coconut flakes (toasted)
1/2 cup peanut butter
1/3 cup flaxseeds
1/2 cup ground flaxseed/ flaxseed meal
1/2 cup chocolate chips (optional) [I would prefer toasted walnuts or pecans]
1/3 cup honey
1 tsp vanilla essence
Method:
Place the oats in a plate and lightly toast the oats in a microwave for about a minute. (This is optional as the original recipe did not call for this). Set aside.
Place the coconut flakes in a plate and toast it in the microwave. (Pay attention as it brown pretty fast).
Now gather all the measured ingredients and put them one by one in a big bowl.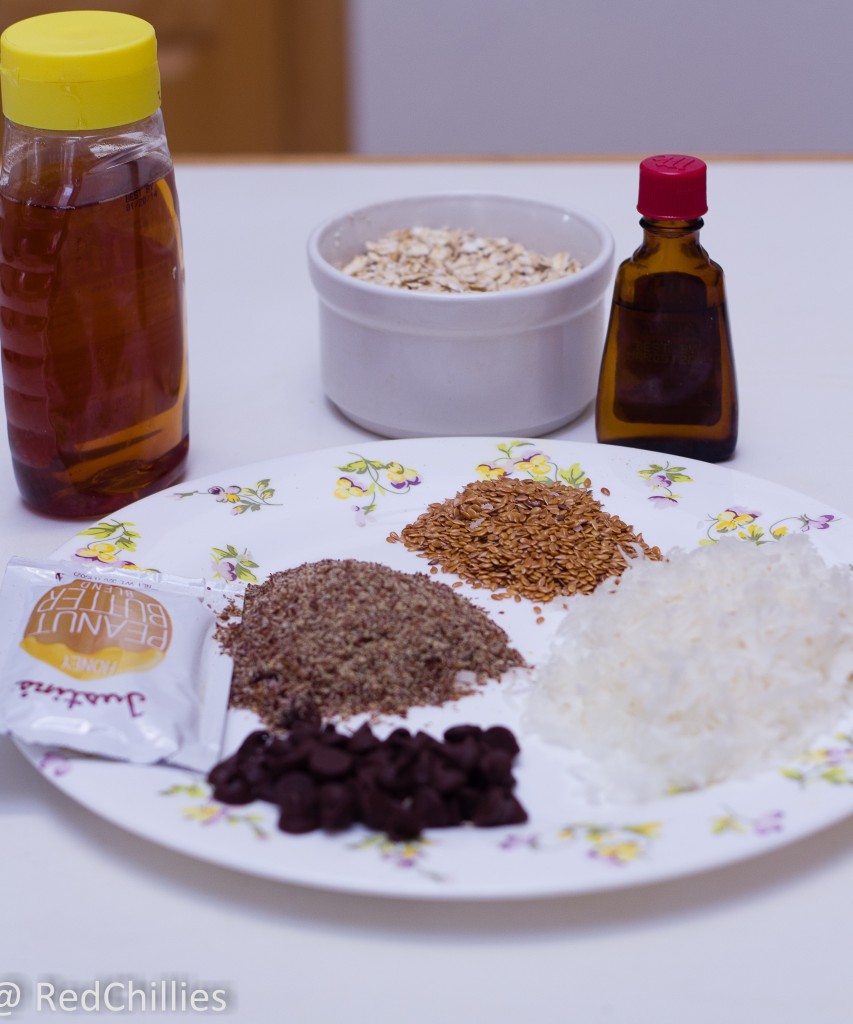 Stir it carefully until it is completely mixed. Cover with lid.
Place it in the refrigerator and let it chill for the next 30-40 minutes.
After it is chilled, take out handful of the mixture and roll them out in shape of balls, pressing tightly in between.
Store them refrigerated in air tight container.
Substitution Ideas:
Substitute quick cooking oats instead of the old fashioned oats.
Add almond butter instead of peanut butter. Skip the coconut if needed.
Add chopped dried fruit like cranberries, apricots, raisins, etc.
Add chopped toasted pecans, walnuts, pistachios, sunflower seeds