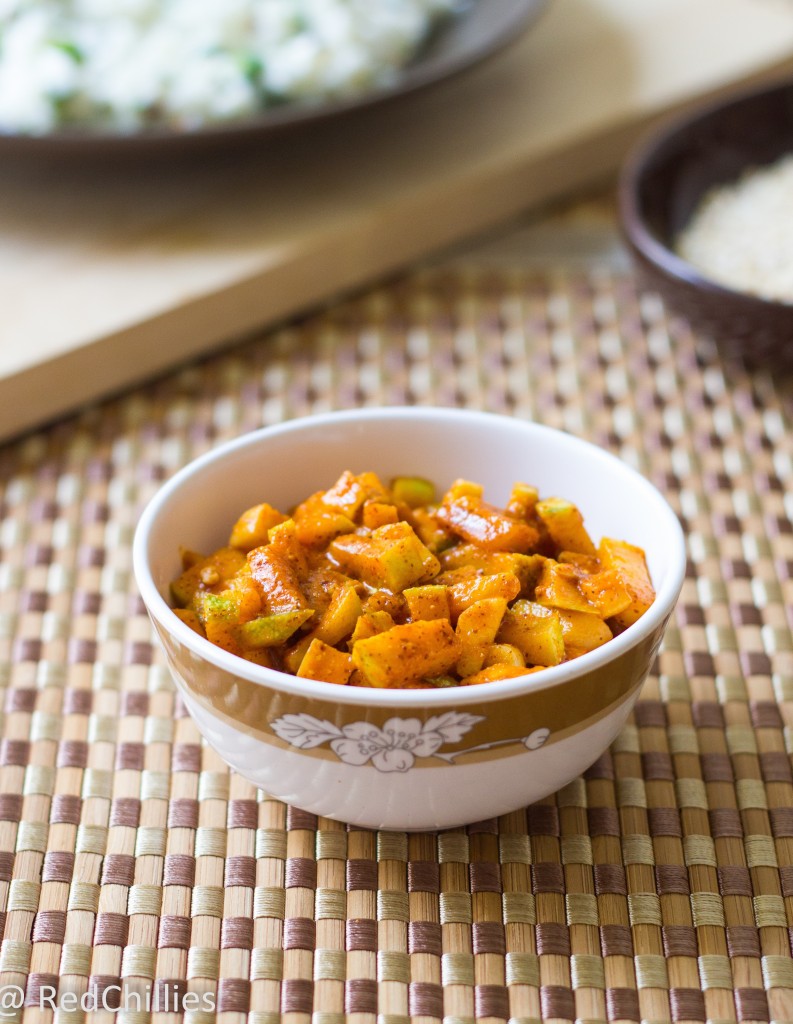 If you are under the impression that making pickle is a time consuming laborious process, then this recipe will prove it otherwise. The spicy pungent powder of mustard and chilli powder is mixed along with the vegetable and oil and left to marinate overnight and that is about it. The next day you have a finger licking, appetizing pickle ready to be consumed.
The vegetable that is used is called Dosakaya in Telegu/ Magge in Konkani (yellow cucumber). It is a small yellow colored squash like vegetable with a crisp crunchy skin and a mild sweet tart taste. This blends very well with the masala and there is hardly any flavor the vegetable left.
My colleague, who is an expert in making Andhra style pickles, makes this often and brings some for me as well. This pickle with mustard seeds powder is an acquired taste. Mustard powder has a unique tart and pungent flavor that is difficult to fathom the first time it is consumed. But once you develop the taste there is no looking back and you begin to crave for that taste of pickle.
This goes very well with daal rice or yogurt rice.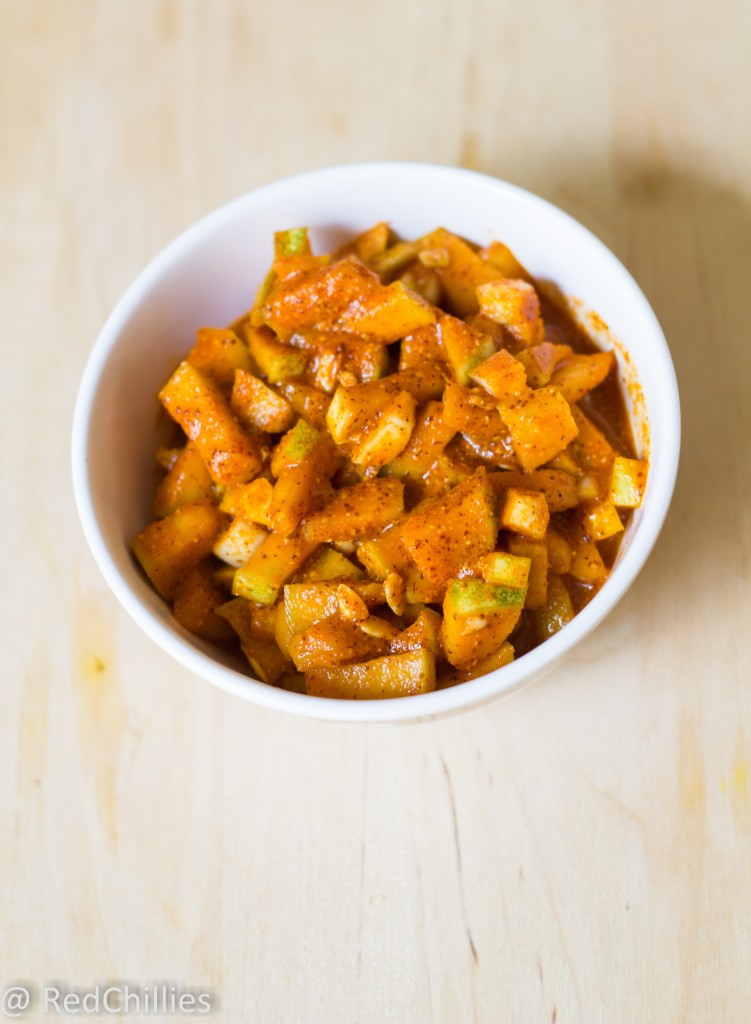 Recipe Source: My colleague and Sailus Food
Ingredients:
1 small yellow cucumber (magge in Konkani) [Dosa Avakai (Dosavakaya)][ medium size]
3 Tbsp mustard powder
4 Tbsp red chilli powder
1 Tbsp salt
2 Tbsp oil (I used vegetable oil)
Before you proceed:
Wash the yellow cucumber and dry it out completely. Make sure that the surrounding is dry and clean and there is no moisture around. Cut the cucumber into two halves. Do not remove the skin as it gives it the crunchy texture. Remove the seeds completely and discard it. Cut the cucumber into small pieces and keep aside.
Making the spice powder
First grind 3-4 Tbsp of small mustard seeds in a grinder. Mix 4 Tbsp red chilli powder, 3 Tbsp mustard powder, salt and mix thoroughly.
Preparing the pickle
Take a clean vessel/box and add the chopped dosakaya pieces. Add the spice powder and mix the cucumber pieces until the spice-mixture coats the vegetable.
Add the oil slowly in spoonful and combine with the spices until well coated. (If you think it is a bit dry, do not worry as the cucumber oozes out its own liquid after marinating with this spice and salt mixture).
Check for taste and add more salt if needed. The pickle has a little salty taste.
?Now cover this with a tight lid and keep it aside overnight.
Next day when you open it you will see that it has the liquid of the vegetable that has blended very well with the oil and spice mixture. Mix well.
This stays for about a week or so. Goes well with daal rice or yogurt rice.