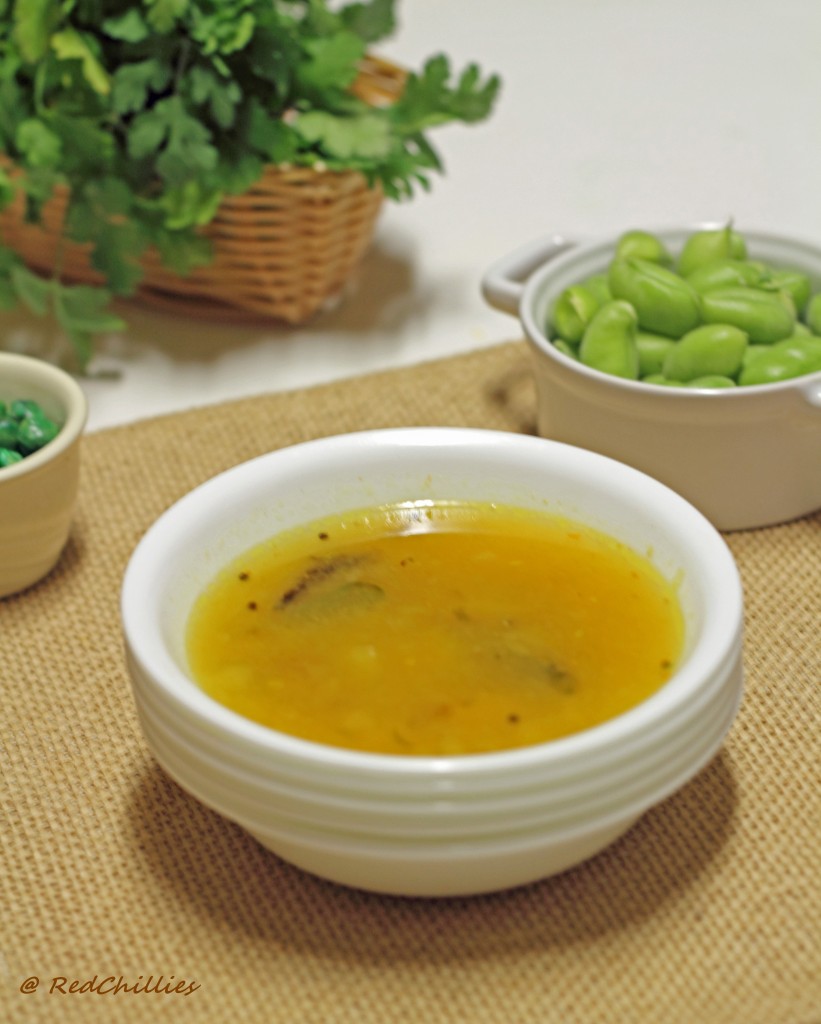 For those in the United States hope you had a wonderful long Easter weekend. We had a relaxing three days, giving us a break from the hectic and sometimes crazy weekdays. The weather was perfect; not too hot or cold, accompanied with a beautiful sunshine that lifted the spirits up.
?For most part I stayed away from the kitchen; surviving many times on Maggi or takeout food. But on days when I cooked, I made something quick and delicious reminiscent of the carefree days of the past.?
Appe Huli is speciality of the Havyakas residing in the Yellapur, Sirsi, Sagar /Malnad regions of Karnataka. Think of this as a raw mango soup which has the flavour combination of spicy, sweet and sour. Serves well as side dish with plain hot rice, or with spicy pongal. In fact I would not mind eating this as a side dish for Rotis/Cahapathis.
Ingredients:
1 Raw Mango
1 tsp urad daal
? tsp mustard seeds
1-2 dry red chilies (broken into pieces)
1-2 green chillies (slit)
4-5 curry leaves
a pinch of Hing/Asafetida
A pinch turmeric powder
1/2 tsp Jaggery (optional)
Salt to taste
1 Tbsp Oil?
Method:?
Wash the mango and chop the raw mango into cubes (along with the skin).
In a sauce pan boil some water, add the chopped mango, salt and slit green chillies and continue until it is cooked.
?Let this cool. Do not throw the cooked water. Now remove the skin from the cooked mango pieces and mash the flesh well. (Note: I remove the green chillies and pulse it one time in a blender).
Transfer this back to the cooked water and over the stove on medium heat. Add little more water turmeric, jaggery salt to bring to rasam consistency and boil.
In a separate pan prepare a seasoning. Heat oil then add mustard seeds, urad daal, curry leaves, hing, and dried red chillies.
Note: You could use few garlic pods for?seasoning instead of the hing. This gives a different flavor to the dish.
Add the seasoning to the boiled mango water. Switch off the heat and cover with lid.
Serve hot with rice.