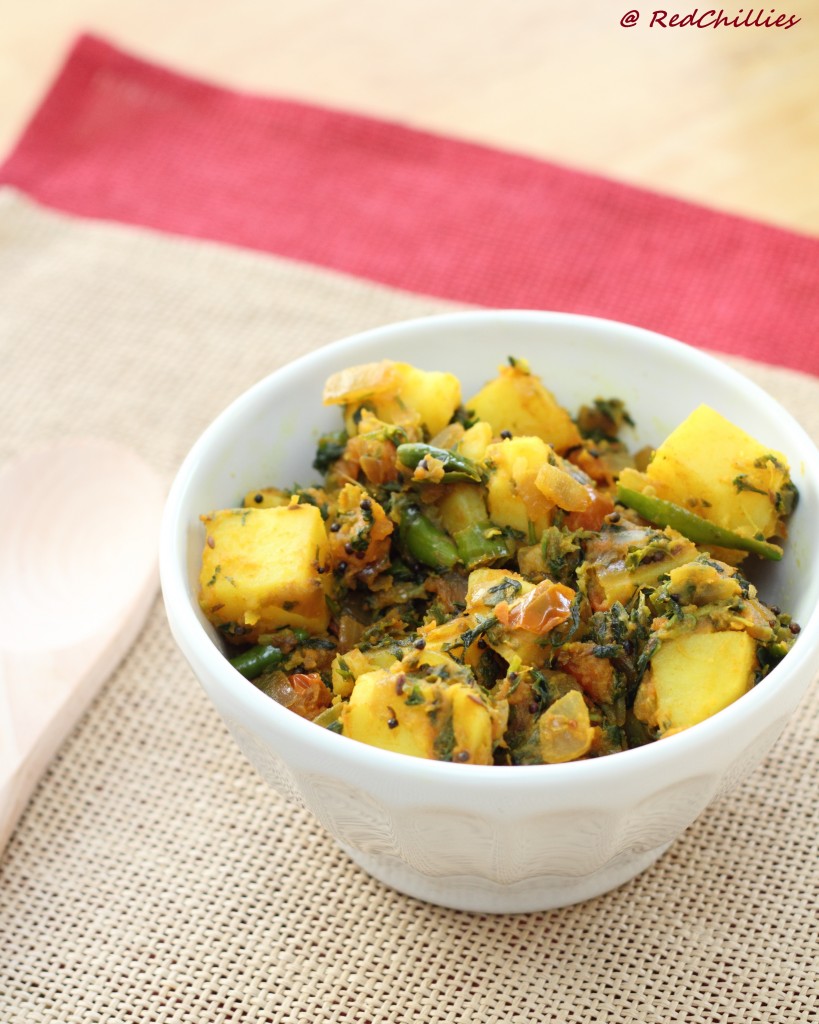 A classic combination of potatoes and fresh fenugreek leaves makes this one of the much loved curry by young and old alike. This delectable curry involves cooking potatoes in a mixture of onion, methi leaves along with tomatoes and other spices. Some people use tomatoes while others do not, I prefer using it as it makes the curry moister.
The fragrance and flavor of fresh fenugreek is good enough to make the curry delicious, however I add a coarse powder of fennel and coriander and make it even more appetizing.
Use fresh methi leaves instead of the frozen ones as it gives a big flavor boost to this dish. This curry tastes delicious with hot rotis/chapathis/phulkas.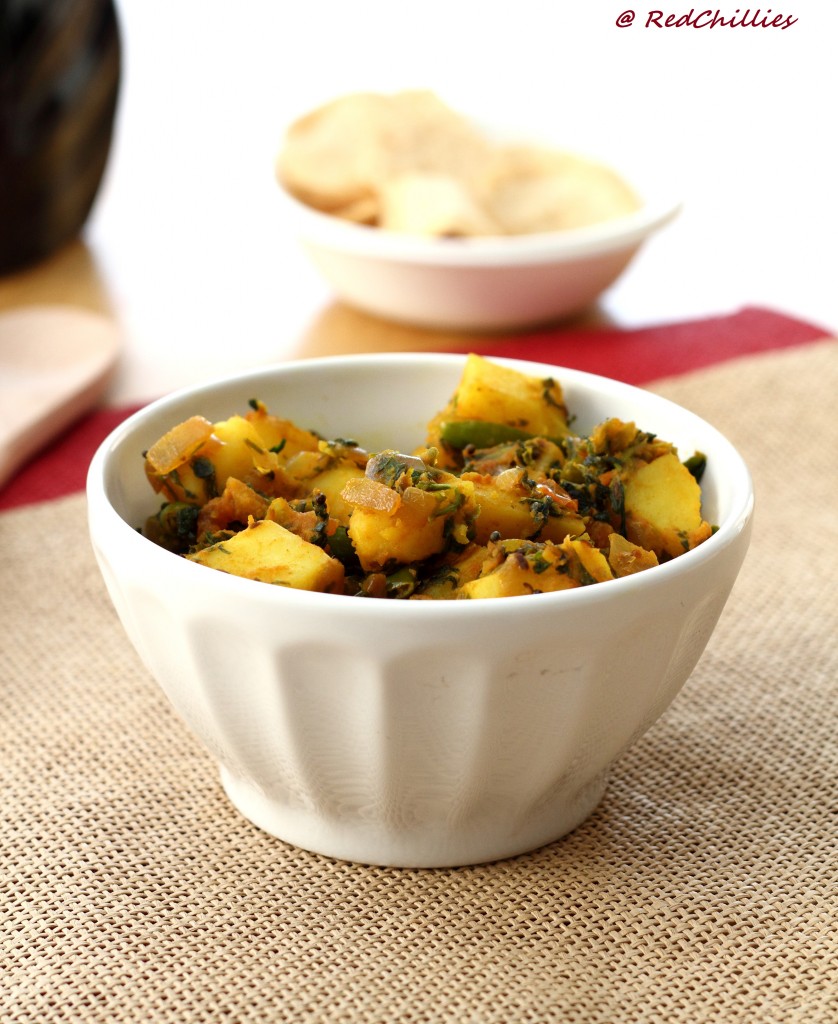 Serves: 3-4 people
Ingredients:
2-3 medium potatoes
1 small onion (chopped )
2 medium ripe tomatoes (chopped)
2 cups of fresh methi/fenugreek leaves (stems removed)
A pinch or two turmeric powder
1 tsp red chilli powder (optional)
? Tbsp grated ginger
2-3 green chillies
1 tsp mustard seeds
1 Tbsp fennel seeds
1 Tbsp coriander seeds/dhaniya
1 tsp cumin seeds
Oil
Salt to taste
Method:
Peel the potato and dice it into small cubes. Boil the potato separately in sufficient amount of water along with little salt. Make sure that the potato is not completely cooked.
Powder the fennel seeds and coriander seeds together coarsely.
Clean the fenugreek leaves and chop it finely. Make sure the stems are removed.
Take a heavy bottom pan; add about 2 Tbsp of oil. Add mustard seeds, cumin seeds and let it splutter.
Add the grated ginger diced onions and sauté until it turns transparent. Add the chopped fenugreek leaves and stir until it is almost cooked.
After the chopped tomatoes, salt, turmeric, and green chillies and mix well.
After the tomato is slightly cooked, add the cooked potato to this and mix well.
Add the coriander fennel powder, salt and oil if necessary and make sure the potato is completely coated. Stir until potato is cooked.
Serve hot along with roti or hot daal/yogurt rice.