Happy New Year to all my readers!?
Regular readers may know that I have been away from blogging for a while. With different priorities in life and juggling multiple tasks, blogging took a backseat and I was not able to post recipes. But with the start of the New Year, hopefully I can keep the momentum going and post recipes regularly.
I made this thin Poha chivda a while ago.? Crispy beaten rice flavored with garlic, peanut and spices make a delicious snack to be enjoyed anytime. You can skip the garlic and add asafetida, but garlic gives a distinct flavor to the snack. Since this is not deep fried, it is a low fat snack that does not pack calories.
Interested in more chivda recipes? You can try the other snacks here: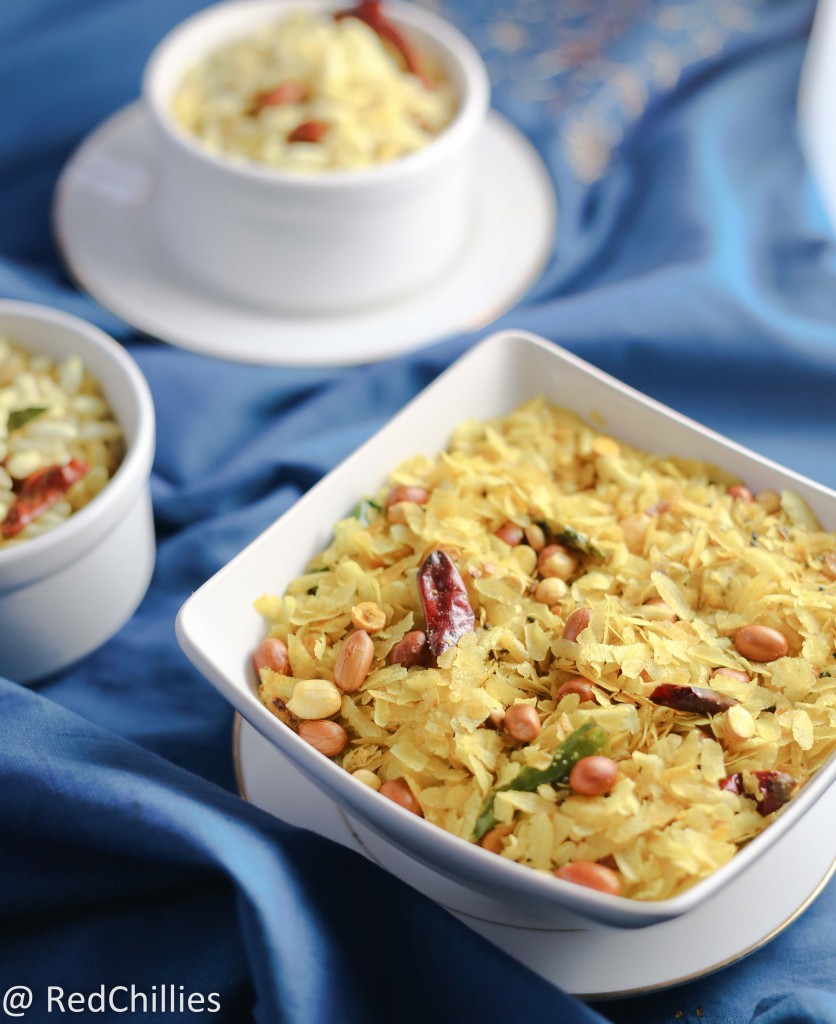 Serves 3-4?people
Ingredients
2?cups beaten rice/poha/avalakki (thin variety)
2 Tbsp dalia split (Kadle pappu/hurigadle/chutney daal)
1/4 cup raw peanuts
5-6 garlic pods (peeled and crushed into small pieces)
2-3 dry red chillies (broken into 2 to 3 pieces)
1-2 green chillies (chopped)
a pinch of turmeric powder
2 Tbsp Oil
5-6 curry leaves
1 tsp sugar
1 tsp mustard seeds
1 tsp jeera (cumin seeds)
salt to taste?
Method:
In a flat pan lightly toast the thin poha over medium flame until the poha gets heat and becomes crisp. Keep stirring else it will get burnt. ?Transfer to a plate.
In the same flat pan, add oil on medium heat. Add the mustard and let it splutter. Next add curry leaves, jeera, green chillies and dry red chillies.
Add the peanuts and stir until it becomes crispy, next add the chopped garlic and mix until it turns light brown. (If not using garlic then use asafetida)
Add dalia, pinch of turmeric powder, salt and stir.
Add the toasted poha, sugar and mix well so that the seasoning coats evenly onto the beaten rice.
Let it cool. Store in air tight container. Enjoy as is or with hot cup of tea or coffee.
This has a good shelf life, so make a big batch and store it in air tight container.