??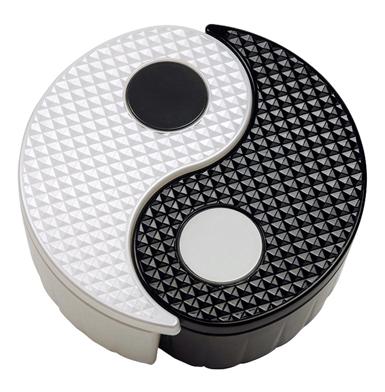 Masala Dabba a round spice box usually made of steel is one of the quintessential part of many Indian kitchens. It has seven smaller bowls inside which holds seven different spices (ground or whole) or spice blends (masala). Growing up this was an essential part of my mom's kitchen and this was the first thing that came out when the cooking started for the day. And now years later a stainless steel dabba filled with spices is an integral part of my kitchen too.
When a representative from the company GitaDini contacted me about the company and their products I was intrigued. Amongst their many products the one that caught my attention was this very different version of the Masala box; a new take on the traditional version. With twelve small containers this can hold five more spices or spice blends more than the traditional ones. As the box is made of plastic it is not bulky but much lighter than the ones made of steel. And the best thing is that if you do not want to store the usual spices, you can store something else.
( Click Here?)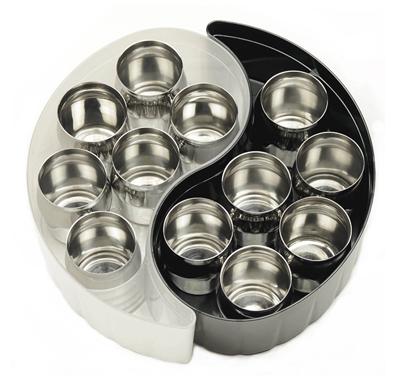 Here is more about the company and their products, right from their website.
GiaDini offers range of home accessories, products for the home and kitchen that are modern and functional to suit western lifestyles, but still reflect eastern culture and tradition.
The Yin Yang Storage Bin Set provides elegant, airtight storage for up to 12 different spices, herbs, seeds, nuts, etc. In addition to spice storage, it can help organize desk supplies, sewing materials, costume jewelry or other small items. Or fill it with chocolate or candy as a unique and practical housewarming gift! Available in a choice of three color combinations
2 airtight, odorless plastic containers seal in freshness and flavor
Extended end tab for easy opening
Set includes 12 stainless steel containers – dishwasher safe
Set includes 2 plastic measuring scoops
( Click Here?)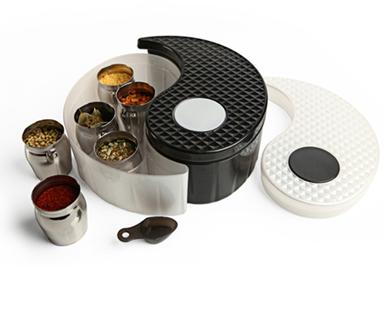 Now that I have piqued your interest here is your chance to get one through this giveaway. Thanks to GitiDini, one of these boxes can be yours. ?If you would like to receive this sleek Storage box/Masala dabba then all you have to do is to leave your comment and follow these rules.
Rules:
The rules could not be simpler, but please read it carefully.
Just leave a comment here saying if you own a spice box/masala dabba and what type.
One lucky person will be chosen at random. Make sure you provide your valid email address so that you can be contacted in case you are the winner.
Shipping will be done by GitiDini to United States address only.
The last date to enter a comment is midnight (CST) Friday January 18th.
That's it! Now what are you waiting for, just get started. Good luck.
Draw: A winner will be selected at random on Saturday, January 19th and posted thereafter. I will also contact that person by sending an email; in case that person does not respond back within 2 days, another person will be chosen and contacted.
PS: People living outside of United States, do not despair, you can use this to gift your friends or relatives living here.
Thanks to GitiDini for letting me host this wonderful giveaway!