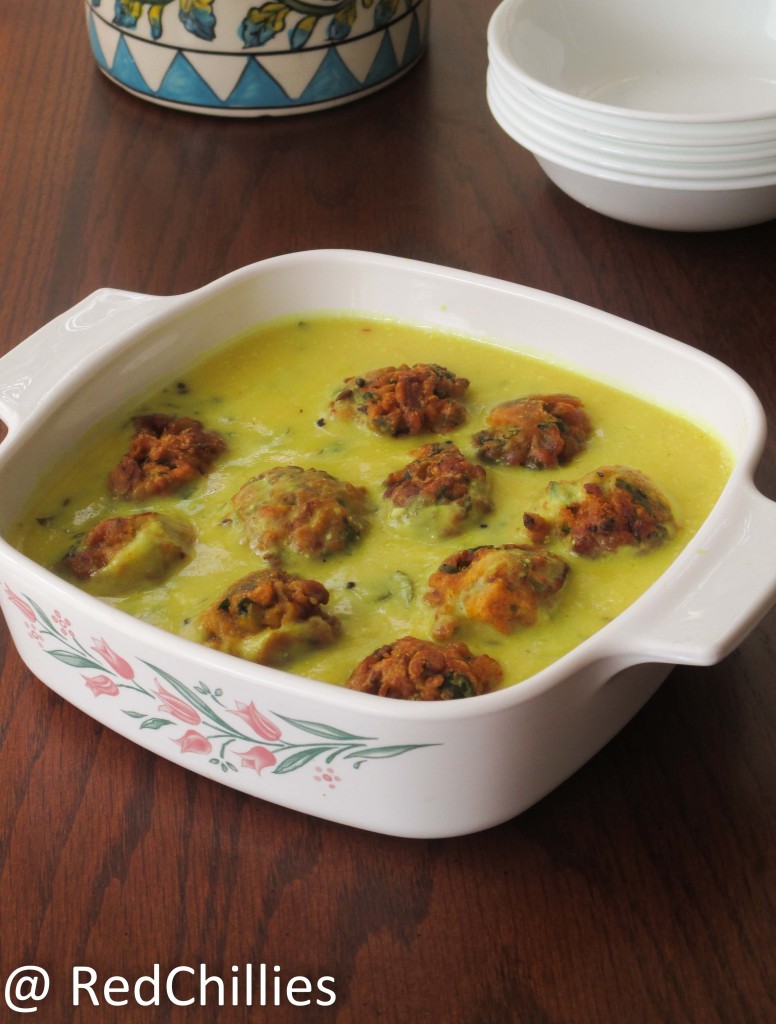 Kadi Pakodi is a famous North Indian dish in which pakodis (fried dumplings made of besan) are dipped in yogurt based curry called kadi. This is thicker than the Guajarati Kadi.
Traditionally, the pakodis are deep fried and then added to the Kadi. However after some favorable experiments with Appe?สูตรบาคาร่าPonganalu/Paniyaram/Uniyappam?I have used my trusty Aebleskiver Pan /skillet?for making the pakodis. You can see an example of the pan here?.
Since this is not deep frying, it cuts down on the calories, but with no much compromise on taste. If there is any concern about using the Aebleskiver Pan or if it is not available then by all means go ahead and deep fry the pakodis.? The preparation can be used more as a guideline and can be aptly adapted to suit one's taste and needs.??
This dish can be enjoyed either with plain white rice or chapathis/rotis.
?Ingredients:
?For Besan Pakora/pakodis?
1 cup besan (gram flour)
1 medium onion (chopped)
3 Tbsp chopped coriander leaves
1 green chilli finely chopped
1 tsp cumin seeds
A pinch of baking soda
Salt to taste
Oil for deep frying (2-3 Tbsp if using the Aebleskiver pan)
?For the Kadi?
2 cups curds/yogurt (dahi) , beaten
4 Tbsp besan (gram flour)
1/4 tsp turmeric
1 tsp chilli-ginger paste
salt to taste?
Kadi's seasoning/tempering?
4 to 6 curry leaves (kadi patta)
2-3 whole dry red chillies (broken)
1/4 tsp fenugreek (methi) seeds
1/2 tsp cumin seeds
A pinch of Hing/asafatedia
2 Tbsp oil?
Method:
?To make the pakodis:??
Mix all the ingredients for the pakodis (except the oil), add little water to make a thick batter.
If deep frying: Heat the oil in a kadhai and drop spoonful of the batter into the hot oil.
Deep fry till the pakodis are crisp and golden brown. Remove and place them on absorbent paper. Keep this aside.
If using AebleskiverPan: (You can buy?the pan from here) Heat the pan and add little oil in all the groves. When it is medium hot, add spoonful of the prepared batter in the groves. Within a minute turn it on all the sides and make sure it browns evenly. This cooks very fast so be very careful. Remove from pan and keep aside.
?To make the kadhi?
In a separate bowl beat the curd/yogurt and mix gram flour in it. Mix thoroughly so that there are no lumps.
Add turmeric powder, salt and 2-3 cups of water. Whisk well.
Now heat oil in a big kadhai. Add cumin seeds/jeera and methi/ fenugreek seeds.
When they begin to sputter add chilli-ginger paste. Stir fry for 15- 20 secs and then add besan-curd mixture.
Stir well and bring it to a boil. Then let it simmer on a slow fire for about 10 minutes. Stir occasionally.
After 15 mins add the pakoras, and simmer the kadi for about 5 minutes. Serve the kadhi-pakodi hot with steamed rice.